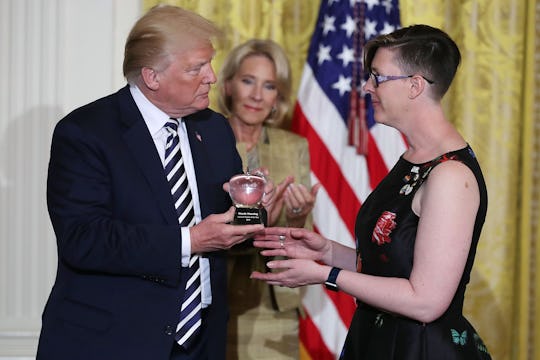 Chip Somodevilla/Getty Images News/Getty Images
This Teacher Of The Year Called Out Trump In An Impressive Speech
If there's one blanket statement that people on all sides of the political spectrum can agree upon it's this: Teachers are important. They do important work and are vastly under-appreciated (and underpaid) for it. And even when teachers are recognized, it often isn't enough. Case in point: this teacher's speech that Trump reportedly wouldn't let her read (in front of the press) at the White House proves that even when teachers are being rewarded, they don't always get to say what they want to say. And in this case, what this teacher wanted to say was seriously important.
While winning the National Teacher of the Year award might sound like a dream come true, for Mandy Manning, it was a little complicated. Manning won the award (and rightfully so) for teaching at a school specifically designed to help refugee and immigrant students adjust to life in the United States, CNBC reports. The Newcomer Center at Joel E. Ferris High School, where Manning teaches English, reportedly has students speaking 72 different languages, per CNBC. So, when Trump reportedly wouldn't allow the press pool at the White House festivities honoring teachers, Manning went to another platform to get her message out there.
Appearing on CNN and sitting down with Van Jones, Manning said what she wanted to say.
Manning attended the White House event and received her award from President Trump, who said that the teacher totally deserved to win the honor. "Her incredible devotion has earned her the adoration — total adoration, actually — and respect of students and colleagues throughout her school district, community and the entire state," he said, according to The Hill. However, Trump didn't mention that Manning's students were mostly refugees and immigrants, an issue that's pretty heated in this administration.
So, since the press wasn't allowed to attend the event, Manning went on with Van Jones to discuss what went down. In her speech, Manning gave examples of her students who had faced immense struggles to get to America, and who were working hard to make it here.
So, according to the video clip on CNN's website, Manning's speech was:
Over the next year, I will be sharing my students' stories and profound insights into our country throughout the nation. Like Sultan's, who escaped war in his country, and understands the importance of the United States to be peacemakers.
I am here for refugee and immigrant students, for the kids in the gay-straight alliance, and for all the girls I've coached over the years. To send them the message: they are wanted, they are loved, they are enough, and they matter.
Go out today, seek an experience you have never had before, get uncomfortable, challenge your own perceptions to find clarity. Be fearless. Be kind. Meet someone new.
But speaking to CNN wasn't all Manning did to take a stand. She also told Jones that she took her opportunity to meet with Trump to do something for her students and community members who were refugees. The teacher had collected letters from immigrants and refugees who gave them to Trump with the hopes that he would read them. Speaking to The Washington Post, Manning explained that she "felt it was important for the president to understand the really rigorous and difficult process and length of time it takes to come to the United States as a refugee." The teacher continued, telling The Washington Post,
They have gone through very, very difficult experiences, but they see coming to the United States as an opportunity. They feel that they can have dreams, and that they can potentially achieve those dreams. It's really quite beautiful, actually, because no matter what — no matter what they experience — they still have this hope, this resilience.
Clearly, Manning knows what she's talking about. And even though her speech wasn't broadcast by the normal White House press pool, what she has to say still matters. Manning's whole reason for attending the event was to let her students, and students everywhere know one simple thing: they are seen.
Manning definitely knows what she's talking about, and she isn't afraid to speak the truth, which is something she wants her students to understand as well.