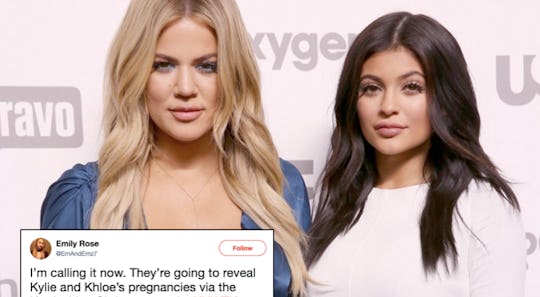 Robin Marchant/Getty Images Entertainment/Getty Images & @EmAndEmz7/ Twitter
This Theory About How Kylie & Khloé Will Reveal Their Pregnancies Is The Strongest Yet
Guys, the alleged Kardashian/Jenner pregnancy reveals could be just around the corner. Word has it that Kim Kardashian is in charge of the reality TV family's Christmas card this year, and she has decided to really tease the anticipation for all it's worth by revealing it gradually day by day. Fans undoubtedly look forward to this annual Kardashian holiday tradition, but considering the rumors swirling around Khloé Kardashian and Kylie Jenner, the countdown is even more suspenseful this time around. And this theory about when Khloe and Kylie will reveal their rumored pregnancies is probably the strongest yet.
The general consensus has been that the family would ultimately announce the pregnancies on Keeping Up with the Kardashians. Because ratings and money and all that jazz. Some even theorized that the sisters would neither confirm or deny the rumors until after the alleged babies were born, according to Metro. Now, fans wait with bated breath for the daily holiday photo — like it's some sort of strange Kardashian-themed advent calendar, with the end prize being a full-body shot of Khloé and Kylie sporting obvious bumps. That would indeed be a Christmas miracle.
The interesting part is some people who are hawking the Christmas photo snippets aren't even fans. "The Kardashian's[sic] legitimately stress me out and I'm not even a big fan of theirs," one Twitter user wrote. "Release the dang Christmas card and lmk if Kylie and Khloe are pregnant. Good grief."
Another person tweeted, "Kim is teasing the Kardashian family Christmas card with these two pics.. I've never been so excited for something in my life.."
"What if the Kardashian/Jenner Christmas card reveals Kylie's pregnancy? Just a thought .." yet another Twitter user surmised.
"I'm now thinking the pregnancy reveal will be through the Kardashian Christmas Card.... seemed odd they didn't tease it during the KUWTK holiday special," another person tweeted.
As People reported, sneak peeks of the family's Christmas card have been posted every day since Dec. 1. Photographer Eli Linnetz kicked the nearly-month-long event — culminating on Christmas Day — with an Instagram photo of Saint West in the middle of a pile of presents. It was captioned simply with, "THE 25 DAYS OF XMAS."
On day two, Linnetz shared an image of North West standing alongside two other (headless) members of the Kardashian family.
Kim continued with day three by tweeting a photo of Reign Disick.
And now today, day four, is a shot of North West and Kim K herself.
As Kim explained in an appearance on The Late Late Show back in November, the family opted for a much more casual vibe this year for their holiday tradition. "This year's Christmas card is shot really casually. We're kind of doing jeans and T-shirts vibe. Really cute," Kardashian told host James Corden. "All the kids are so hard to put together," the beauty mogul said. "It's women and children this year."
Fans might be extra excited about the 2017 Christmas card for another an entirely different reason, other than a potential double pregnancy announcement. (Although let's be real, confirming the alleged pregnancies is at the top of the list.) That's because reality TV bunch opted to skip their Christmas tradition for 2016. So yeah, I'd say fans are definitely in need of their Kardashian Christmas fix. If you remember, the 2015 holiday card featured grandkids only: Kourtney's three children, Mason, Penelope and Reign; and Kim and Kanye's daughter, North.
Star Magazine predicts that more shots of the Kardashian kids will be featured in the next few days. Which means Mason and Penelope Disick and Dream Kardashian could be next in line for Dec. 5? I guess we'll just have to wait and see. But the real question is: Could Kardashian fans' Christmas wishes really be coming true on Dec. 25 with an internet-breaking double pregnancy reveal? The countdown is on!
Check out Romper's new video series, Romper's Doula Diaries:
Watch full episodes of Romper's Doula Diaries on Facebook Watch.