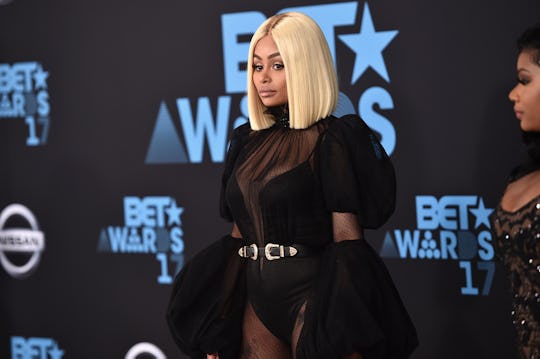 Alberto E. Rodriguez/Getty Images Entertainment/Getty Images
This Theory About Blac Chyna Is Not OK
On Wednesday morning, Rob Kardashian took to social media to accuse his former fiancée, Blac Chyna, of cheating and taking illegal drugs. Kardashian's series of Instagram posts have garnered thousands of comments, including one particularly terrible theory about why Blac Chyna was with Rob Kardashian — and it is so wrong. Neither Kardashian nor Chyna have returned Romper's request for comments and there is no proof that Chyna has used illegal drugs.
According to People, Kardashian posted several "extremely graphic and expletive-ridden posts," including nude photos that are reportedly of Chyna, attacking his former flame and co-star of E!'s Rob & Chyna. Some people have responded to Kardashian's Instagram posts by saying that he should have "expected" this treatment from Blac Chyna, who gave birth to their daughter, Dream Renee Kardashian, seven months ago. They accused Chyna of being with the E! reality star only to "get back at Kylie" for dating her ex-fiancé, rapper Tyga. Kardashian and his fans have also claimed that Chyna gave birth to her second child, Dream, as revenge against Tyga, who is father to her 4-year-old son, King Cairo Stevenson.
These allegations against Chyna are nothing new. According to Refinery29, the 29-year-old model had been labeled a "gold digger" for dating Kardashian as soon as their relationship went public. These allegations, though, are deeply embedded in misogyny and perpetuate the racialized trope of the lying, conniving woman.
This is not the first time that Kardashian has gone after Chyna on social media. In December, the reality TV star went on an Instagram and Snapchat rant accusing Chyna of disrespect and dishonesty, and claimed she took their daughter Dream and left their home, according to R29.
According to US Weekly, Chyna had responded to Kardashian's social media meltdown on Wednesday, alleging that he was physically abusive. Her Snapchat posts have since been deleted. E! News later reported that she responded to the rant with Drake lyrics.
Kardashian and Chyna's relationship has been on-again, off-again, and it's unfortunately played out in public. In the end, though, Chyna doesn't deserve to be slut-shamed, attacked, or bullied by Kardashian, no matter how brokenhearted he may be. It doesn't matter if she cheated on him (though right now we have no real proof that she did), Kardashian has no right to share photos of what was reportedly Chyna's naked body; it's inappropriate, degrading, and emotionally abusive.
It's also deeply misogynistic to suggest not only that a woman would be in an extended relationship with a man only to get back at another woman, but that she would carry another child as revenge against a former partner. These comments on Kardashian's posts perpetuate the sexist — and highly racialized — stereotype that women are "evil," "liars," and "cruel." And these are tropes that are often used to justify sexual violence against women.
What Kardashian has allegedly done to Chyna is indefensible, and his fans are no better for piling on. It needs to stop.