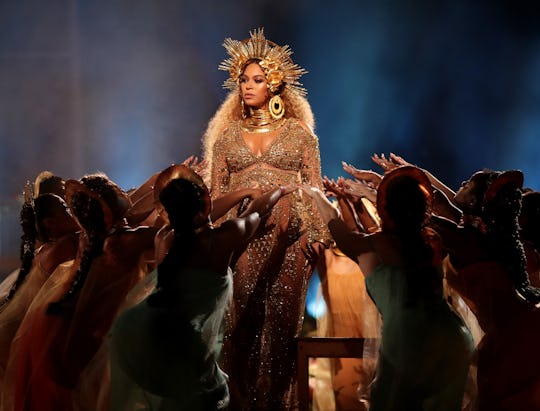 Christopher Polk/Getty Images Entertainment/Getty Images
This Theory Will Convince You That Beyonce's New Tattoo Is All About Her Kids
Anytime Beyoncé breathes, the world stops. OK, so maybe the world doesn't exactly stop, but it certainly takes a minute. And after the Queen gave birth to her twins this summer, fans everywhere have been excitedly awaiting to see any and all updates the Grammy-winning singer will share about her new little ones. Unfortunately, while Bey has shared many fierce photos of herself since giving birth, there haven't been a lot of photos of the twins recently. But, since the Beyhive is literally the most dedicated fandom in the world, there's reason to believe that Beyoncé's new tattoo is for her kids, and honestly, it wouldn't be surprising.
In a photo shared to her Instagram page Wednesday, a faint, new tattoo is visible on Bey's left ring finger, above her existing tattoo for her husband, JAY-Z. So, what is this new tattoo that has the Beyhive abuzz? Well, it's actually just three little black dots, but they could symbolize a lot more.
Considering that the tattoo is on is her ring finger, which already possesses some meaningful ink, it would make sense that this latest tattoo is meant to pay tribute to her three children, according to Glamour, as Beyoncé is clearly a person of symbols and hidden meanings.
Listen, nothing Beyoncé does is by accident. Just as many call Taylor Swift calculating, so is Bey (although I would argue that the two are just brilliant businesswomen who are experts at marketing, but whatever). As People noted, the singer's original wedding tattoo of the Roman numeral IV has a multitude of meanings:
Beyoncé was born on September 4, Jay-Z on December 4 and they tied the knot on April 4, the fourth day of the fourth month of the year. The number has also been featured on both of their albums, first on Beyoncé's fourth studio album, fittingly titled 4, and most recently on Jay-Z's latest album 4:44. And the numerical obsession goes even farther than that, they even named their daughter after the number, Blue Ivy, or should we say, Blue IV.
But, when Bey updated her wedding tattoo, people obviously took notice once again. Of course, it wasn't a big change, but she did make the tattoo look more like the number 4, or the letter J, fans are still unsure, actually.
So now, of course, many are assuming that this new tattoo is a special nod to her three little ones at home. And truly, Bey has made it no secret that she loves her kids more than anything. After her oldest daughter, Blue Ivy, was born, Bey took some time out of the spotlight, and then released the song, "Blue," which her daughter had a special appearance on.
Additionally, Bey also posted an Instagram video collage featuring herself wearing three rings, with the letters B, S, and R — a pretty obvious tribute to her kids: Blue and twins Sir and Rumi.
So, it seems pretty darn likely that her latest ink addition is another way for the loving mom to show the world how much she loves her kids. Obviously, it could very well be a simple, minimalistic tattoo — but Beyoncé is a genius, and it wouldn't be so surprising of her to get a new tattoo as a way of expressing her love in a creative and beautiful way.
Of course, if Queen Bey also wanted to release two new songs for the twins, I don't think anyone would really object to that creative addition either. Basically, anything Beyoncé does is perfect, brilliant, and flawless, and these new tattoos are no exception.
Watch Romper's new video series, Romper's Doula Diaries:
Check out the entire Romper's Doula Diaries series and other videos on Facebook and the Bustle app across Apple TV, Roku, and Amazon Fire TV.