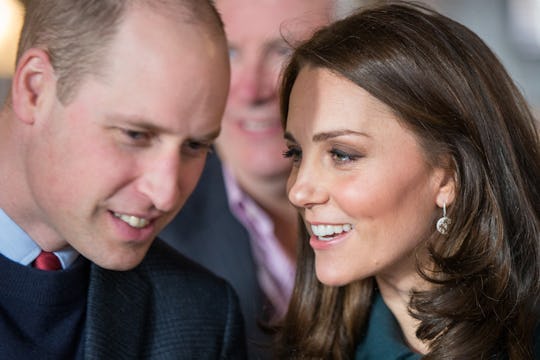 WPA Pool/Getty Images Entertainment/Getty Images
This Timeline Of Prince William & Kate Middleton's Relationship Reads Like A Modern Day Fairy Tale
I don't know about you, but I'm a sucker for a good love story. Add an actual fairytale ending, I'm officially obsessed. I was tracking the budding royal relationship and planning their wedding in real time. For those of you who had lives of your own to focus on, here's a timeline of Prince William and Kate Middleton's relationship. It has been something of a bumpy ride, but it has all been worth it.
The world has been treated with a decade and a half of royal love story updates to put in their William and Kate scrapbooks, leading all the way up to present day. After beginning a relationship in college, the two went on to build a life and a family together that just keeps on growing. Between babies, royal engagements, and the fulfillment of civic duty, Prince William and Middleton have been awfully busy.
I can think of no better way to prepare for the coming addition to their family — who is due to arrive in just a matter of days, according to E! News — than a look back on how far they have come. So, without further ado, here are some of Prince William and Middleton's greatest hits.
2001-2005: College Romance
Much like in The Prince & Me, Prince William and Kate Middleton met in college. Both were freshmen studying art history at St. Andrew's University in Scotland at the time, according to Good Housekeeping, and officially started dating in 2003. They moved in together their sophomore year, along with two friends, and lived there until graduation on June 23, 2005.
2006: Career Minded
Like any good pair of postgrads, Prince William and Middleton began their careers the next year. While Middleton was busy working as an accessories buyer for the big name fashion chain Jigsaw, William was with the Royal Military Academy at Sandhurst, according to Cosmopolitan. His graduation as an Army officer marked the couple's first public appearance together.
2007-2008: On Again, Off Again?
2007 was a bumpy year for the couple. It is widely accepted that they broke up for a spell that year due to pressure from the media and extended time apart. But don't fret, the break didn't last long. They were back together within the year, according to Pop Sugar.
2010 Big Steps: Moving In & Getting Engaged
Prince William made hearts around the world simultaneously swell on November 16, 2010, when he put a ring on it — Princess Diana's 18-carat sapphire ring to be exact. He popped the question while on vacation with Middleton in Kenya. Shortly thereafter, the couple sat down for an interview with People and dished on the details.
William explained that the he was just as nervous as any other guy down on one knee would be:
As every guy out there will know, it takes a certain amount of motivation to get yourself going. So I was planning it and then it just felt really right out in Africa. It was beautiful.
That same year, they moved into a four-bedroom farmhouse in north Wales where they would live together for three years.
2011: Wedding Bells
I graduated high school in 2011, but that was far from the most exciting part of my year. On Aprill 29, 2011, Prince William and Middleton had the wedding that dreams are made of. Their big day was broadcast on live television for me — and 23 million other Americans — to watch and swoon. Fortunately, the wedding was only the beginning of their journey together as a family.
2013: Their First Baby
Two years after tying the knot, Prince William and Middleton welcomed their first child together. Prince George made his arrival on July 21, 2013, at 4:24 p.m. BST weighing 8 pounds, 6 ounces. The entire country celebrated along with the Royal Family and the world has been watching little George grow up ever since.
2015: Baby Number Two
Prince George wasn't an only child for long. On May 2, 2015, Princess Charlotte was born. Her royal adorableness has captured hearts everywhere, including her big brothers.
2017: A Third Child Is On The Way
That brings us up to the present. Middleton is expecting her third child with Prince William any day now and the world is watching with bated breath. Glamour UK reported that Middleton will have a home birth, but little else has been shared about the baby. Surely more information will be reported once the baby gets here, but for now privacy is important for the family. It is reportedly a part of their decision to have the child at home, and fans should respect that. As your waiting for those details to come out, feel free to scroll up and relive this love story all over again. I know I will.