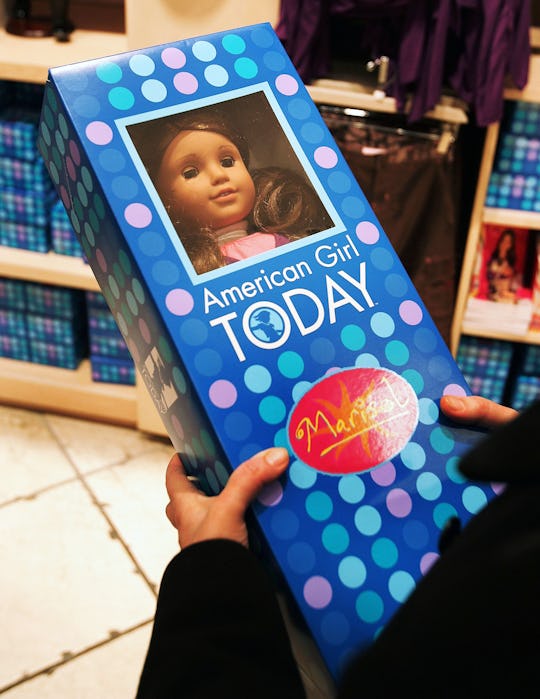 Tim Boyle/Getty Images News/Getty Images
This Toddler Without Limbs Now Has An American Girl Doll That Looks Just Like Her
When their daughter, Harmonie-Rose Ivy Allen, contracted meningitis at 11 months old and had all four limbs amputated as a result, Freya Hall and Ross Allen were just relieved that she'd lived, and that she'd overcome the less-than-ten-percent chance of survival she'd been given by doctors. Despite becoming a quadruple amputee, Harmonie recovered remarkably, and with her third birthday approaching, Hall and Allen knew they wanted to get her a special gift. Thanks to a little help from a New York-based prosthetics company, this toddler without limbs now has an American Girl doll that looks just like her — and it is the coolest ever.
According to TODAY, Harmonie was diagnosed with meningitis and meningococcal septicaemia in September 2014, after her parents noticed she wasn't breathing properly, and rushed her to the hospital in their hometown of Bath in England. Despite the amputations and grim prognosis — doctors expected that Harmonie would likely have brain damage and significant developmental issues if she did manage to live — Hall said that Harmonie is is "bubbly, smart and completely amazing," and though she does have some ongoing health issues, she doesn't yet appear to have any developmental problems.
But despite overcoming huge odds, being a 2 year old without limbs can be incredibly difficult. Hall told ABC News that Harmonie isn't yet a huge fan of her prosthetic legs, and hasn't ever met another quadruple amputee just like her. So her parents were able to get her the next best thing: a customized American Girl doll named Rebecca who also has four prosthetic limbs. And when Harmonie saw the doll for the first time? Well, she was pretty overjoyed. Hall told ABC News,
She just said, 'Mummy, she's just like me.' She loves to take the arms and the legs off and they love to sit next to each other without the prosthetics on.
Harmonie's special BFF was customized by A Step Ahead Prosthetics, which makes prosthetic limbs for children and adults — but that's not all. Since having a doll with prosthetic limbs can be such a big self-esteem booster, they will also modify American Girl dolls free of charge for children with limb loss, just like Harmonie.
A Step Ahead Prosthetics also helped customize a doll for 10-year-old Emma Bennett earlier this year, whose story went viral on social media after her mom uploaded a video of her opening her special gift. When she realized that the doll had a prosthetic leg just like she did, she began to cry and hug her doll, and said, "It's got a leg like me!"
Thanks to families like Harmonie's, and companies like A Step Ahead Prosthetics, the need for toys that are more inclusive and representative of all kids is gaining more attention. But that's not the only thing Harmonie has inspired. After Harmonie's close call with meningitis, Hall and Allen created Hope For Harmonie, which helps raise funds for their little girl, as well as awareness about the dangers of meningitis. According to the UK's ITV News, Hall and Allen spoke out on behalf of Harmonie to push for a government-funded meningitis vaccine in 2015 as part of a larger campaign led by the charity Meningitis Now. According to The Bath Chronicle, a meningitis B vaccine is now available free of charge for infants in the UK — which hopefully will keep other babies from suffering like Harmonie did.
As a parent, I can't imagine what it must have been like for Harmonie's mom and dad to see her without limbs as a result of a potentially-preventable illness. But it sounds like her new doll is just one of the many ways they'll be able to teach her that her prosthetics won't hold her back as she grows and takes on the world — with Rebecca in tow, of course.