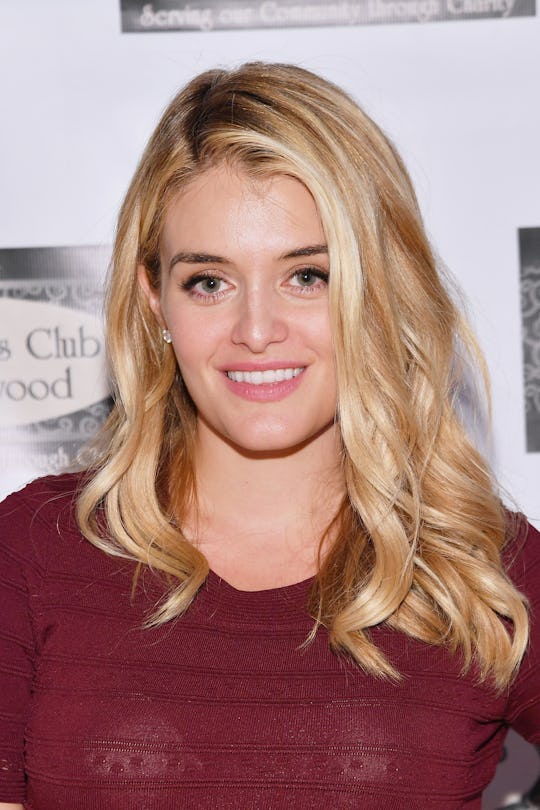 Mike Coppola/Getty Images Entertainment/Getty Images
This TV Host's Photo Of Her *Real* Postpartum Body Will Make Moms Will Feel So Seen
It's no secret that the months (and years, in some cases) after giving birth can be tough for many parents. From all the responsibilities that come with welcoming a new human into the world to fluctuating hormones, postpartum life is no joke. And if you've been there before or are struggling with these issues right now, you'll probably appreciate this TV host's incredibly honest take about her postpartum body. Prepared to feel seen, moms.
Daphne Oz, the co-host of The Chew and daughter of the famed Dr. Oz, recently gave birth to her third child, a little girl named Domenica. And throughout Oz's entire pregnancy, she shared candid updates about her changing body and her emotions about becoming a mom of three. The good news is Oz's *real* takes on pregnancy haven't stopped now that Domenica has officially made her debut.
In fact, on Wednesday, Oz took to Instagram to share an update and sincere message about her postpartum body. Oz captioned a revealing photo of herself:
Seven weeks post partum, still looking three months pregnant. there is no bounce-back, it's all onwards and upwards. every day has moments of total splendor and also a decent number of WTFs. I especially want the new mamas out there to hear that, because we see so much of how glossy motherhood can be and not enough of how real 3D life is always complicated (and better for it). you're experience will be just right for you. prepare to be amazed by some things and horrified by others. motherhood is as complex and wonderful as the woman.
Yep, Oz deserves a round of applause for this one. First off, it's so great that Oz is raising awareness about postpartum bodies because more people need to be educated on what a postpartum body can actually look like (Oz's body is just one example, by the way). Remember when the internet shamed Kate Middleton for having a postpartum bump after she gave birth to Prince George? It seems to me like there are lot of people out there who think parents lose their bump as soon as they give birth, and that there is something "wrong" with those who don't. Of course, each body is different, and as Oz mentioned in her message, your experience is the only "right" one.
Secondly, I bet it's refreshing for moms to hear that postpartum life can be "amazing" and "horrifying" all at once. Because that's the truth, isn't it? One minute you're in awe of your body's strength and its ability to endure childbirth, and then the next second, you're wondering why you're so freaking constipated and leaking breastmilk all over the place. Motherhood is indeed "complex."
Lastly, I love how Oz gave a shoutout to all the new moms out there. A lot of first-time moms, especially those without resources or familial support, are going through postpartum changes not knowing if they're "normal." So, it's really important that Oz is making it a point to send a message of comfort to new moms and debunking the often inaccurate portrayal of postpartum bodies in the media. First-time parents need all the support they can get, right?
And as for why Oz felt compelled to pen the message in the first place, it's because she once struggled with postpartum body issues herself.
Oz recalled of her first post-delivery doctor appointment, according to PEOPLE:
I thought I knew where I'd be when I went for my first doctor appointment a few weeks after giving birth. I'd lost only 10 pounds.
Although Oz initially felt a bit uncomfortable about her body at the appointment, she ultimately realized that her concern was misguided.
Oz said at the time, according to PEOPLE:
I'm breastfeeding, so my priorities include eating to nourish my baby, gaining muscle tone and feeling good. It's about being back in charge of my body.
And "feeling good" about yourself is what's most important, right? Moms should be able to experience their postpartum bodies without any outside judgment, and it's great that Oz is raising awareness about this important issue.
Check out Romper's new video series, Romper's Doula Diaries:
Watch full episodes of Romper's Doula Diaries on Facebook Watch.