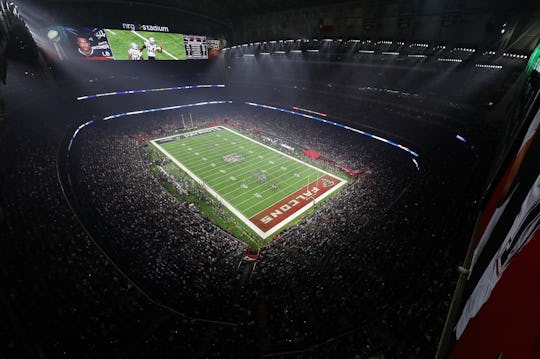 Tom Pennington/Getty Images Sport/Getty Images
The 1 Super Bowl Tweet You Need To Read ASAP
Each year, companies pay millions of dollars to have their commercial shown during the Super Bowl, which is why the commercials are almost always fun to watch. However, it seems this year's commercials all collectively decided to use the airtime to make a ton of poignant statements that speak to the political climate not just in America, but also all over the world. Because it feels like every commercial has used its primetime placement to reach audiences not just for laughs and jokes, it's not at all surprising that this tweet summing up every Super Bowl commercial is going viral.
"'We love America, but also we're not racist," read the tweet. "'Just - we are sorry it's like this now.' - Every Super Bowl Commercial."
The tweet, which came from TV writer Mike Drucker, who's best known for working on The Tonight Show with Jimmy Fallon, has already received more than 6,000 retweets and 13,000 likes and counting. While the tweet is funny because of its accuracy, it also touches on a real common thread seen throughout the Super Bowl commercials this year.
For example, many of the ads shown this year touched on immigration and diversity, both of which are hot-button topics at the moment in the US. Coca-Cola was one company whose 2014 commercial (which they re-aired this year) got a lot of notice for featuring a multilingual version of the patriotic song, "America The Beautiful," while showing various people of different races and ethnicities. Based on the ongoing conversations the nation is having about who should be allowed to come to this country, the revival felt perfectly timed.
Similarly, Airbnb, who bought a last-minute spot, according to The New York Times, used their air time to share a simple message, while showing the faces of different people of different ages, races, and ethnicities:
"We believe no matter who you are, where you're from, who you love, or who you worship, we all belong," the words read. "The world is more beautiful the more you accept."
The ad then ended with the hashtag #WeAccept, which quickly went viral:
There's many more examples of the various statements the Super Bowl commercials made this year, which is why Drucker's tweet is so incredibly accurate.
Whether these commercials accomplish what these companies hoped they would or not, it was incredibly touching to see so much ad time spent just on promoting inclusivity and acceptance. That was ad time well spent.