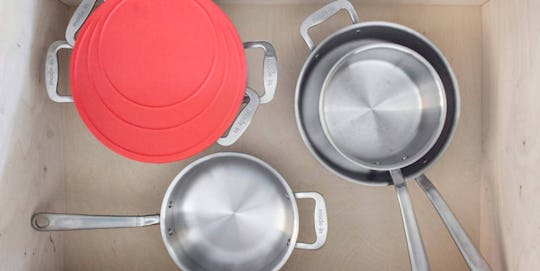 Courtesy Of Made In
This Universal Pot Lid Is Freakin' Brilliant — Say "Bye-Bye" To Kitchen Clutter
Although there may be a lid for every pot, good luck locating that lid in your cabinet. If you're like me, kitchen cabinets are filled with several lids that don't seem to fit anything. But with the universal silicone lid from Made In, those crowded cabinets may be a thing of the past. It's a seriously clever invention that could help out tons of home cooks.
When Chip Malt & Jake Kalick first launched the cookware company Made In, they interviewed hundreds of home chefs about kitchen challenges. Lids that clutter up kitchen cabinets were a top complaint. I totally get this, because there are at least five lids in my kitchen that don't seem to fit anything in particular, but I hold on to them just in case the elusive pot or pan shows up. It's annoying. So to address this issue, the founders of Made In spent a year designing ways to solve this common cooking complaint.
As a result, Made In launched the universal lid, which fits all the company's stock pots and saucepans. In other words, you only need one lid for most all of this company's cookware. As advertised, the lid has three circular lips (small, medium, and large) that are designed to fit every Made In pot and pan precisely. Basically, that means you can ditch all those irritating lids rattling around in the back of your cabinets for good.
OK, but what if you don't own the Made In line of pots? Well, the universal lid should work with any pot or pan that's smaller than the diameter of the lid, as a rep from Made In tells Romper. So you can do some quick measuring to see whether the small (7.5" diameter), medium (9" diameter), and large (11" diameter) inner rings just might fit the cookware you already have.
In addition, the ability to fit multiple pots isn't this lid's only claim to fame. Its combination of silicone outer and stainless steel inner materials is said to protect against warping. Also, the lid is designed to speed up your boiling time or keep food warm for a longer time.
Plus, the lid is constructed to behave well when it's not actively being used for cooking. Designed for thinness, the lid can be stored away or even stacked up for easy storage. Plus, it's dishwasher safe, which is the most important requirement I have for any kitchen utensils.
A new direct-to-consumer company, Made In creates cookware specifically for the home chef. Made in America, their products are designed to function as well as other quality cookware at a lower price point. The website already offers a sizable collection of pots and pans for all your sautéing, boiling, and frying needs. Top it all off with the universal lid, and your cooking nights might be easier than ever.