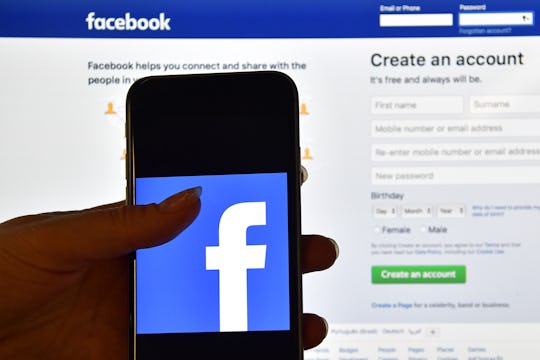 Carl Court/Getty Images News/Getty Images
Facebook Created A Messaging App For Kids, & Parents Will *Love* It
The internet is a big, dynamic, and oftentimes dangerous ecosystem where kids can just as easily chat with a stranger as they can fill their brains with info about photosynthesis for a class project. And, above all, the world wide web is unavoidable, even for very young children. So, Facebook has developed an app to allow youngsters to access one of the best parts of the internet — namely, chatting — in a way that it bills as safe and controlled. Out Monday, the new version of Facebook Messenger specifically for kids, aptly called Messenger Kids, keeps parents in the loop so that they can feel confident that their kids' online interactions are age-appropriate and limited to people they actually know and trust.
As anybody with kids probably knows, a federal law designed to protect kids from online predators and exploitative advertising prohibits children under the age of 13 from having their own social media accounts. Still, kids want to use messaging apps as much as their parents oftentimes want to ensure that they have a handle on what their kids are getting up to on the interwebs. Enter Messenger Kids, the independent app designed for 6- to 12-year-olds that requires parents to authorize their kids' accounts before they're set up and to approve any potential new contacts before kids start chillin' online together.
In a blog post announcing the new app, Facebook shared that Messenger Kids will have all the features that kids love: one-on-one and group video chats, masks, emojis, sounds effects, and more. But the app, which launched Monday as a preview for iOS users in the United States only, eschews a lot of the more adult elements of a messaging app that oftentimes make parents wary, such as advertisements and a searchable database of others who are on the app. Parents can simply use their regular Facebook accounts to monitor their kids' online activity and approve friends and relatives for them to interact with.
Still, as Recode's Kurt Wagner pointed out in his coverage of the new app, there's one glaring motivation for Facebook to develop Messenger Kids that can hardly go unmentioned. Roping in children and preteens now, of course, makes it that much more likely that they will graduate to using a regular Facebook account when they turn 13, rather than using another app, such as Snapchat, instead. Is that why the app it making its debut now?
Facebook itself seems to have anticipated the criticism, though. Another blog post, this one written by Facebook's public policy director and head of public safety Antigone Davis, argued that such a parent-controlled app is necessary because kids are going to use messaging apps one way or another. Davis wrote that the company worked with child development experts, parents, and educators over the course of a year and a half to develop Messenger Kids. Those on the project found that most kids have access to tablets and smartphones. Additionally, using the internet on those devices even has educational benefits, and allows kids to connect with family members.
But parents had one common concern about giving their kids access to the internet or to messaging services — even knowing the benefits, Davis explained in the post:
... [P]arents want to know they're in control. They want a level of control over their kids' digital world that is similar to the level they have in the real world. Just as they want to know whose house their child will be visiting for a playdate, they want to know who their child is connecting with online. And just as they want to say "lights out" at night, they also want to be able to say "phones off."
Using Messenger Kids, parents will be able to maintain a level of control, but not one so great that they would be infringing on their kid's privacy. That wouldn't necessarily be possible with other apps. Whether this actually makes kids safer is yet to be seen.
Check out Romper's new video series, Romper's Doula Diaries:
Watch full episodes of Romper's Doula Diaries on Facebook Watch.