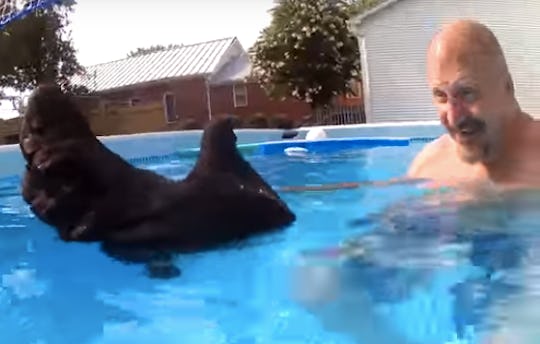 This Very Excited Man Is Seriously Losing His Sh*t Over A Floating Chicken — VIDEO
It's hard to take the time to appreciate the little things. From big time responsibilities to run-of-the-mill, often mundane obligations, adulthood means your life is filled with a lot of necessary (and honestly, some unnecessary) seriousness. Unless, of course, you're this guy: YouTube usernothd70 and his daughter put a chicken in a pool to see if it would float or sink (you know, as you do). As he carefully let go of the chicken and realized the bird does, in fact, float, he lost his sh*t like a sh*t-collector with amnesia (give it a minute; it's funny).
The complete and total joy this man experienced at something small and, well, kind of weird, is impressive when you think about it. How many of us drag our feet through day after day, failing not only to realize what an incredibly wondrous world we live in, but failing to find real, actual, profound joy in anything, let alone something as effortless and accessible as a bird's ability to not... sink? I don't know. The point is, watching this guy made realize that I'm not being diligent enough about observing and indulging in the casual magic that exists all around us. This pool guy is a wonderful reminder to us all: Take the time to appreciate the little things. Especially if the "little thing" is a floating chicken
So, in honor of this man and his zero chill, we've rounded up like-minded people who love finding joy in the little things. It's like Ferris Bueller said, "Chickens move pretty fast. If you don't stop and put them in a pool once in a while, you could miss the fact that they float."