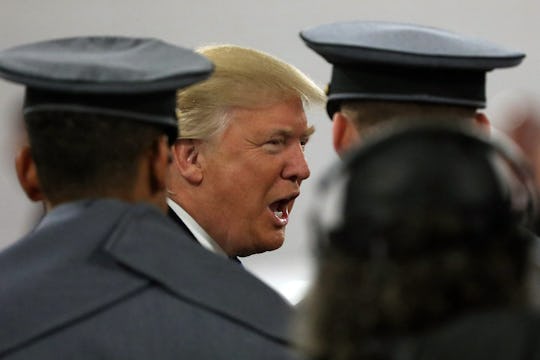 Aaron P. Bernstein/Getty Images News/Getty Images
Veterans Urge Trump To Act Like A Legit President
Sometimes it appears that the new president of the United States would prefer to watch cable news than address the protestors pointing out flaws in the executive orders he's signing. So, a group of progressive veterans half a million strong decided to communicate with him directly during the shows that so often rev him up to register its displeasure. The veteran commercial addressing Donald Trump features an Afghanistan War vet letting the president know what this crucial population expects from him as a "legitimate president." Because, with his moves to threaten their health care and dismantle the American values they fought for, he's certainly not acting like one right now, the group asserts.
VoteVets.org debuted the ad during MSNBC's Morning Joe Monday to ensure Trump's attention, as its vice chair Peter Kauffmann explained in a statement. The 30-second spot opens with a closeup of the veteran doing squats, and pans out to reveal he has one leg and a wheelchair parked close by, a physical vestige of combat. "President Trump, I hear you watch the morning shows," he says in a voiceover:
... Look, you lost the popular vote. You're having trouble drawing a crowd. And your approval rating keeps sinking. But kicking thousands of my fellow veterans off their health insurance by killing the Affordable Care Act and banning Muslims won't help. And that's not the America I fought for.
Although most veterans who voted in the November presidential election cast their ballots for Trump, VoteVets.org has been consistently critical of his treatment and plans for this demographic. In late January, it condemned his decision to issue an executive order to freeze pay and halt hiring for federal agencies. The recently inaugurated president had campaigned in part on a promise of improving care for those who fought in defense of the United States and its values, but the move both threatened the financial security of the veterans who make up 31 percent of the federal workforce and imperiled the future of the Department of Veterans Affairs, which, according to The Washington Post, had north of 4,300 open positions at the time, including those for physicians and other health care providers.
"This freeze raises serious concerns about the president's commitment to veterans and improving the VA," Iraq and Afghanistan Veterans of America CEO Paul Rieckhoff said in a statement. "Patients, doctors and caregivers across the VA are now worried about the impact of the hiring freeze at this most critical time in the agency's history."
Additionally, Trump and other Republican lawmakers have pledged to repeal former President Barack Obama's Affordable Care Act. The 2010 law helped slash the uninsured rate for non-elderly veterans by 42 percent between 2013 and 2015, according to a report from the Urban Institute, a left-leaning think tank. Veterans also reported that more of their health needs were being met than before. And according to TIME, the elimination of the Affordable Care Act could yank essential mental health care from veterans who need it, as it's currently covered as an essential benefit.
VoteVets' decision to air the commercial during the morning talk shows is an intuitive one because of Trump's well-known obsession with voraciously consuming the criticisms of him they present — and responding. And this time, the group is taking one particular Trump tweet, which reportedly went live just just three minutes after the ad did, as confirmation that he saw it, as Kauffmann said in the statement. "Any negative polls are fake news, just like the CNN, ABC, NBC polls in the election," the president wrote Monday morning, apparently referencing the groups jab as his abysmal approval ratings.
But this organization is not prepared to take Trump at his word. "You want to be a legitimate president, sir?" the voiceover concludes. "Then act like one."
For VoteVets, that clearly means treating those who served with decency and respect, and upholding the promise of America. Trump, by walking back on his promises to prioritize their needs and causing upheaval by temporarily banning immigration from seven Muslim-majority countries, has not risen to that standard.