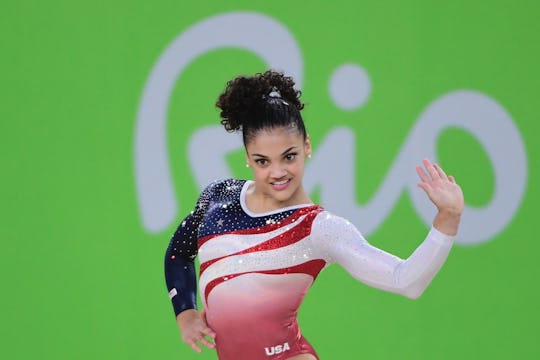 EMMANUEL DUNAND/AFP/Getty Images
This Video Of A Young Laurie Hernandez Proves She Was Always A Gymnastics Star
Laurie Hernandez has captured the hearts of Olympics fans across the world. And as cute and spunky as Hernandez is as a 16-year-old champion, seeing video of baby Laurie competing as a 9-year-old will make your heart melt. Check out this video of a young Laurie Hernandez that prove she has always been a gymnastics star.
This video, recently shared by FloGymnastics is of a little Laurie performing a level 4 floor routine, including killing the splits and even a back handspring. Just watch this confident little 9-year-old do her thing like she already knew she was destined for the Rio Olympics.
And Hernandez has done incredibly well in Rio up against the very best in the world. She and Team USA's "Final Five" won gold in the team all-around competition. Hernandez competed on balance beam, vault, and a floor routine that she opened up with a knowing wink to the judges. She even beat out her teammate, the incredible Simone Biles, on balance beam, going on to grab the silver, leaving Biles in third place with a bronze medal.
"I just went out there with a calm and collected mind-set and just ready to go out there and complete my routine," she said about her performance on balance beam, according to Us Weekly. "Any color medal is amazing."
Here she is learning how to compete as a little girl.
Comments on the video included this explanation of gymnastic competition: "In levels 1-6 everyone completes the same routine so I did this same routine when I was in level four!" Sarah Siskin wrote. "My mom will tell you this music still haunts her."
Other commenters are also remembering their own gymnastics experiences as kids watching Laurie do her thing. "OMG I remember this exact routine but mine definitely did not look like hers lolol no wonder she's gonna be in the Olympics."
There are other videos out there of Laurie as a baby gymnast. Here's another amazing video of Laurie at 10 years old killing her floor routine. It takes a second for the judges to get her music going, but once it does, the athlete is on fire!
Hernandez told NBC Olympics that gymnastics has been her passion her entire life.
"My earliest memory was watching gymnastics on live TV, and wanting to do what the 'big girls' did," Hernandez said. "I started a gymnastics class at five years old, but it became serious at seven."
In addition to her dedication and talent, Hernandez has also become a trailblazer. She is the first U.S.-born Hispanic gymnast to go to the Olympics since Tracee Talavera in 1984.
After gymnastics is done, Hernandez told NBC she wants to become an actress.