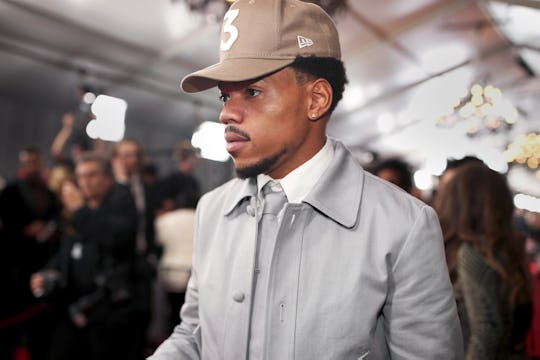 Christopher Polk/Getty Images Entertainment/Getty Images
This Video Of Chance The Rapper & His Daughter Playing Music Will Wreck You
OK, so it's already well-established fact that Chance the Rapper is an all-around good dude. He helped SoundCloud stay on its feet earlier this year, he's now creating a new awards show for teachers, and he's constantly helping out kids in his hometown of Chicago. But did you know Chance the Rapper and his daughter have a band, and that it's the most adorable thing in the world?
Chance uploaded a video of him and his daughter to Instagram earlier this week, giving fans a glimpse of 1-year-old Kensli Bennett swinging a microphone around and stamping her little foot to the beat while glancing over at her dad now and again. She's just a toddler, so she's not singing quite yet, but the two already make the world's best band. In the caption, Chance joked: "I need 4 more so I could start a band."
This isn't the first time Chance has shared pictures and videos of little Kensli, who turns 2 this month. He's also talked about how his child — who was a surprise for him and his girlfriend, Kirsten Corley — completely transformed his life. "I knew people that had kids; a lot of my friends had kids when they were young," Chance told Complex in March. "But I had never experienced joy like that before."
He also told Complex that he wanted to be "a good friend and an example" to his daughter — which, judging by the video of them jamming together, he totally already is.
Luckily for the many fans Kensli has already gained, this isn't a rare post on Chance's part. He regularly shares photos of his young daughter, and in February, he wrote a beautiful little ode to her under an Instagram shot. "Nothing I'm doing currently would be possible without this girl right here," he wrote, continuing:
She's so kind and loving and brilliant and beautiful. And I wouldn't have her without her mother, so thank you for creating and raising the greatest gift I've ever received. Cannot wait to get back to this.
Not only is Kensli on her way to creating the world's best band with her father, but she's already a stellar harmonica player, as you can see in another video uploaded by Chance:
Oh, man — and here I thought I couldn't love Chance any more. Personally, I'm super on board with his plan to have four more kids so he can start his own band, because it would be the cutest thing ever. But in the meantime, I think he and Kensli are doing pretty well all on their own.