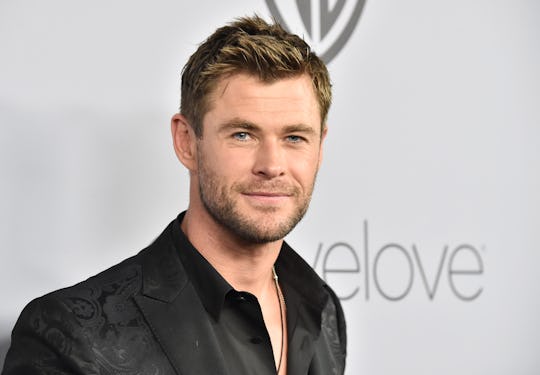 Frazer Harrison/Getty Images Entertainment/Getty Images
Chris Hemsworth's 3-Year-Old Son Literally Climbed Up A Fridge — For Chocolate
If you're a parent, chances are you know exactly how difficult it can be to stop a determined child, especially if they're a climber. Normal roadblocks — like baby gates, cabinet locks, tall counters, etc. — are no match for these strong-willed kiddos. Because they'll simply scale whatever happens to be in their path in order to reach the prize. That's probably why this video of Chris Hemsworth's 3-year-old son climbing their fridge for chocolate has parents relating so hard.
For those who need a refresher, the Avengers actor and his wife, Elsa Pataky, have three children together: a daughter, India Rose, 5, and twin boys, Tristan and Sasha, 3, according to People. (So yeah, it's safe to say Hemsworth and Pataky have their hands full!) In Hemsworth's most recent Instagram post, he featured one of his twin boys attempting to reach a tasty treat. Most kids would be deterred by a high cabinet and just give up; but not the son of Thor.
"My son found out where the chocolate is kept," the actor captioned the clip. "Must find a new hiding place. He's 3..#tarzanrules." This little guy is shown trying his hardest to scale the refrigerator in order to reach chocolate that seems to be in the cabinets above. Just check out his impressive upper body strength!
Impressive, isn't it? I swear, this kid is on track to be just as ripped as his famous daddy. Hemsworth's Instagram followers were equally impressed with the 3-year-old's strength.
"Well the mighty Thor has passed on his good genes!" one person proclaimed.
"How? I can't even climb a tree and here's some 3 year old kid climbing a fridge," another person pointed out. "It's truly priceless."
Another person simply stated, "Never underestimate the determination of a child."
Yet another Instagram follower commented, "That is just amazing and sheer determination!!! I would do that for chocolate!" (Me too, man. Me too.)
Other Instagram followers were quick to add their two cents when it comes to keeping kids out of mom and dad's stash of goodies. "Hide it in the box for a nasty 'old people' cereal#parentinghacks," one clever follower suggested.
"Parenting struggles... hide it in the freezer with the vegetables," another Instagram user advised. Hmmm. I just might have to steal these ideas for myself. So I can have a moment like this after my kiddos are asleep.
As impressive as Hemsworth's son's skills are, it's worth noting the actor's children were decidedly unfazed by their father's line of work when he brought them on the set of Thor: Ragnarok. "They were wildly unimpressed," Hemsworth told E! News.. "They were like, 'This is so boring. We thought you fought monsters for a living and you don't."
Also, upon further investigation into Chris Hemsworth, I declare him to be serious #dadgoals. Like that time he shared on The Ellen DeGeneres Show that his then-4-year-old daughter told him she wanted a penis like her brothers — and the actor simply told her, "You know what, you can be whatever you want to be."
Or that time when he shared this adorable shot of his twin boys on Instagram. "My son said to his brother 'Tristan hold my hand so you don't get eaten by a crocodile.'" Hemsworth wrote, alongside a photo of the twins hand-in-hand while walking on a path in Australia. Too cute!
For the most part, my first two kiddos seemed content with keeping their feet planted on the ground. But my third child? She's definitely a climber. I'll turn my back for a minute and suddenly find her sitting on top of the dining room table, grinning away. And she loves stairs — as well as walking on furniture, standing on chairs and otherwise finding creative ways to maim herself. It's exhausting. She's not quite 2 yet, so I'm not sure if it's just a phase, or if her love of precarious climbing will continue. For now, at least, the cabinets above the fridge at our house are still a safe hiding spot for mommy's chocolate stash.
Check out Romper's new video series, Romper's Doula Diaries:
Watch full episodes of Romper's Doula Diaries on Facebook Watch.