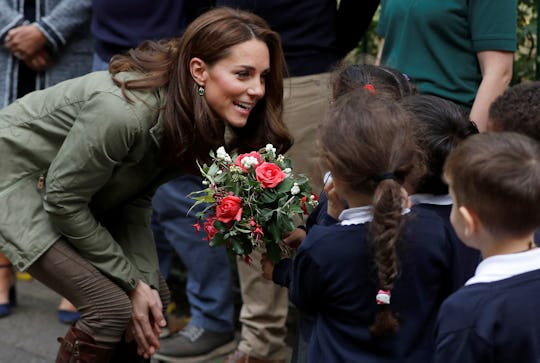 WPA Pool/Getty Images Entertainment/Getty Images
This Video Of An Excited Little Girl Hugging Kate Middleton Will Instantly Warm Your Heart
The Duchess of Cambridge, Kate Middleton, is finally back from maternity leave after she gave birth to her third child, Prince Louis, last April. And everyone seems to be excited about this — like, really, really excited. In fact, watching this video of an excited little girl hugging Kate Middleton during her first official royal appearance since giving birth proves just how much the public has missed her.
Middleton made her big official return to royal duties on Tuesday, according to People, paying a visit to a school in London (just a few miles away from her own home in Kensington Palace) where she learned about the school children's wildlife garden and how outdoor learning helps their growth. But Middleton also got to meet some children who attended the school and were super happy to be meeting the Duchess of Cambridge. She even told one group of well-wishers there to see her that she "enjoyed her time with the kids" at their outdoor classroom, according to People.
The feeling was clearly mutual — the little kids loved their time with Middleton. At one point during her morning, Middleton got the opportunity to greet students one by one, shaking their hands as they went down the line. But one girl was a little too excited about getting the opportunity to meet Middleton — opting for a hug and a handshake, according to Cosmopolitan.
The way she embraces Middleton like an old friend is the sweetest thing you'll see all day.
Middleton handled it like any Duchess would — with a smile and hug back — before moving on to the next child (who also felt like giving her a hug). But since Middleton is the mom to three young kids under the age of 5, she definitely knows how sweet and unpredictable kids can be. So it's likely that this unexpected hug didn't phase her.
But who wouldn't greet Middleton like an old friend? Since the time she had her first televised interview as Prince William's fiancé in 2010, people couldn't help but fall in love with her shy demeanor, great smile, and perfect hair, according to People. In the eight years since then, Middleton has only become more and more loved by the public (and it's not just because of her hair). People love Middleton for her ability to stay humble (in spite of being married to the future King of the United Kingdom), her devotion to her family (and her kids), and the fact that she always seems so happy, according to Us Weekly.
Little kids can obviously sense this, too — which is why that little girl couldn't resist going in for the hug.
Not to mention, Middleton is a great role model for young girls to look up to — and not because she is a "princess" in real life. No, Middleton is a role model because she is a humanitarian, devoting her time to charities that try to "provide children with the best possible start in life," according to the official website for the royal family. It is through these charities that Middleton advocates for supporting the "mental health and emotional resilience" of children, which will hopefully have a lasting impact on their futures. In addition to this, Middleton is a strong supporter for physical activity and the arts (and is even a budding photographer, herself, according to Vanity Fair).
These things make Middleton worthy of admiration and she does a great job at setting good examples for little kids (like the ones who hugged her on Tuesday). If her interactions with her own kids weren't enough, her appearance on Tuesday proves that she is amazing with the youngest generation.