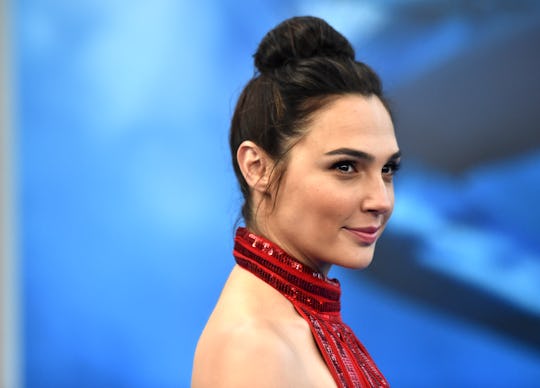 Frazer Harrison/Getty Images Entertainment/Getty Images
This Video Of Gal Gadot Comforting A Child Is Going Viral — But Not Only For The Reason You Think
The record-breaking success of Wonder Woman at the box office has been a big deal for women — not only does the film center around a female superhero, but it was also directed by a woman, too. And at a time when it still bothers people to see women on-screen in certain roles (people still seem to be recovering, for example, from the recent news of a female lead in the next Doctor Who), it's clear that movies like Wonder Woman matter. But the movie's influence goes far beyond adults paying for movie tickets: this video of Gal Gadot comforting a crying girl at Comic-Con has gone viral, thanks to the fact that, well, it's totally adorable. But even more than that, it also perfectly illustrates exactly why it's so important that young girls have the chance to see women like Gadot totally owning the big screen in such powerful roles — and it's why we need more films just like it.
Each year, hundreds of thousands of fans head to San Diego for Comic-Con, an event celebrating all things comic book and superhero-related, and this year, according to Entertainment Weekly, Gadot made an appearance for a panel alongside her fellow Justice League cast members. But in a video captured by Variety, a young girl dressed in her own Wonder Woman costume promptly burst into tears once it was her turn to meet Gadot at an autograph signing, and the footage is so heartwarming.
Although it's not clear exactly what the little girl said to Gadot when she finally got up to meet her, the fact that she was so emotional clearly made an impact on the actress. In the clip, Gadot can be seen holding the little girl's hand, and saying, "there's no reason to cry anymore, right? Here we are together."
Gadot wasn't the only one to be touched by the girl's reaction. Looking on, Gadot's Justice League co-star Ben Affleck can be seen gesturing to the exchange, and saying, "sweet kid," while Ezra Miller spoke to the little girl directly, and said, "You're a warrior ... I see it!" and added, "I think the ability to let yourself cry is what makes [you] such a warrior."
There's no question that the girl in the clip was likely thrilled to meet the cast, and by Miller's comment. But it's also clear that Gadot was who the little girl was really there to see — a fact that isn't exactly surprising given that Gadot's portrayal of Wonder Woman has given so many girls a chance to actually see a totally badass woman standing out in a big way in a genre that is usually dominated by men.
That's a reality that definitely hasn't been lost on the little girl's mother, children's book author Christine Keller. According to The Huffington Post, Keller tweeted in response to the viral video that her daughter was "so happy to meet [Gadot] that she was tearing up," and later shared the video on her book's Facebook page, where she explained just how much the meeting meant. Keller wrote,
These characters matter and can have a huge influence on young people. What a great role model and genuine, nice person. My daughter will always remember this moment for the rest of her life. Thank you, Gal Gadot!
Like Affleck noted, watching the video of Gadot comforting the little girl is indeed very sweet. But chances are her feelings went beyond simply being star struck. After all, Gadot's role in Wonder Woman has made it cool to be a strong, powerful woman, and she's shown an entire generation of young girls that superheroes aren't just for boys. Seeing that message represented on-screen has clearly made a huge impact on so many girls, so it's not at all surprising that getting to actually meet her in person would have made the girl in the video super emotional.
What's even better, perhaps, is that Gadot's response was so lovely and validating, and likely everything that little girl had hoped for. But as wonderful as this video was, it needs to also be a reminder that Wonder Woman should be the beginning of greater media representation of strong female role models. Although the film's impact has been significant, there is still so much more progress to be made.