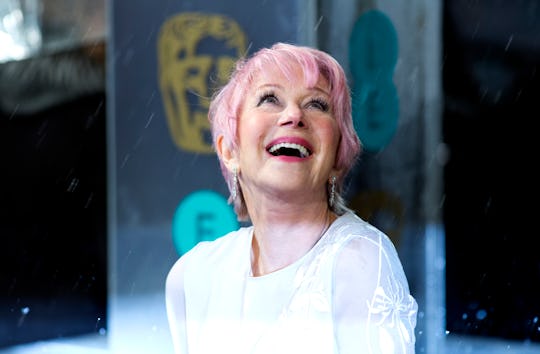 AFP/AFP/Getty Images
This Video Of Helen Mirren Responding To A Sexist Interviewer Is Powerful & Frustrating
In addition to being one of the greatest living actresses of our time, the Dame who you might remember from movies like Red and The Queen is also a feminist — and she has been since at least 1975. In a video uploaded to Youtube, you can watch Helen Mirren responding to a sexist interviewer on a show called Parkinson that used to air in the UK. The host, a man named Michael Parkinson, was interviewing her for press she was doing as a new member of the Royal Shakespeare Company. Mirren, then 30 years old, was playing Lady Macbeth in the company's production of Macbeth.
The interview didn't exactly get off to an auspicious start: before Parkinson even thought to ask Mirren about the iconic role, he launched into a series of really awkward questions about her body, the nude scenes she'd done for previous roles (and if she'd consider doing more in the future), and actually suggested that she couldn't possibly consider herself a "serious actress" when her physical appearance could so clearly "detract from the performance."
The interview surfaced online back in 2008, and the first part (entitled "The sexist Parkinson interview") has more than three million views on YouTube. At one point, about 2 minutes and 30 seconds into the interview, Parkinson implies that her "physical attributes" are what people must really like about Mirren, to which she simply replies:
As the interview wears on, she (and we, as the viewer) become increasingly fed-up with Parkinson's blatant sexism. At one point he quotes a reviewer who accused her of "projecting sluttish eroticism" — whatever that means. She handles the barrage of questions with class and finesse, but does eventually shut him down completely, ending the line of questioning by calling it "boring." Or, at least ending that sort of questioning in that particular interview; it would continue, and has, for the next 30-some years of her career.
In 2010, she was interviewed by Bust and asked about the interview — which she of course remembered, but shrugged off, calling it "par for the course" being a woman in film. "I was very polite with [Parkinson], far more polite than I should have been," she told Bust, adding that had she had a daughter (Mirren has never had children), she would have taught her early to call-out sexism: "It's quite valuable to have the courage and the confidence to say, 'No, f*ck off, leave me alone, thank you very much.'"
Decades later, while she was promoting The Queen, Mirren actually went on Parkinson again, and, it might have taken him about 30 years, but he finally treated her with the respect that not just Mirren, but all women, deserve.