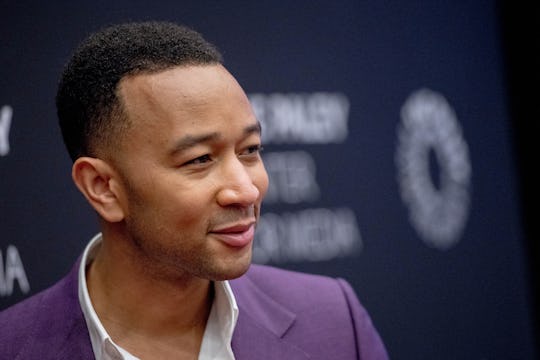 Roy Rochlin/Getty Images Entertainment/Getty Images
This Video Of Luna Clapping To Dad John Legend's Performance Will Def Make You Smile
Chrissy Teigen's daughter, Luna Simone, is clearly very proud of her dad—and that became even more clear when John Legend shared a video of Luna clapping to his epic recent performance. On Wednesday, Legend shared on Twitter the video of Luna watching his performance of his new song, "A Good Night" on the Ellen DeGeneres Show.
In the adorable video, Luna is seen sitting in front of the television in their living room, happily clapping along to her Grammy-winning dad's awesome performance. She even yelled "Yay!" a few times at the TV as he was singing his latest single for Ellen's audience after an interview in which he and Ellen talked all about Luna's latest milestones, according to People.
Legend captioned his post, "Hey @TheEllenShow! First of all, Luna loved the show. Still working on her clapping on the 2 and 4 but that will come…."
Fans of the family seemed to love Legend's priceless video as much as I'm sure Ellen did. But that's no surprise — everything Legend or Teigen post sits well with their fans because most of it's precious.
"Luna is so adorable. Love how at times she just stops and is fixated on you. Daddy's girl?" one fan asked. "Dear Lord she's the cutest," another said. Another commented, "Luna was so excited to see her Daddy. Priceless moments I love your family. @chrissyteigen."
During his appearance on the Ellen DeGeneres Show, Legend explained how Luna has been having a lot of firsts recently. For example, he said he and Teigen were driving while listening to Beyoncé's latest album, Lemonade, when Luna repeated them and said "Beyoncé" for the very first time. He was about as excited as she was watching her dad on TV.
"I feel like I should write it down in her baby book," he said, according to People. Ellen asked if she'd said "Ellen" yet, too, to which Legend replied: "Not yet, but if I say it to her, she'll say it back. So we'll watch the show, and she'll see Dada on Ellen. And then she'll say it."
Legend later shared a follow-up video of Luna adding "Ellen" to her vocabulary, captioned, "Annnnd….. she said her first 'Ellen!' @TheEllenShow." He and Teigen were sitting on the couch watching the show together with their daughter when they got her to repeat after them again, according to Billboard.
This isn't the first time Luna did something adorable with her dad. A few days ago the singer posted a video of him dancing with his daughter on Instagram, too. He captioned the post, "Dada's singing!" #AGoodNight."
Again, fans were pleased with the post. One fan wrote: "Ok fine, this is cute. She is cute. You win." Another said, "Ow my heart."
Sure Luna said "Beyoncé" and "Ellen" after Legend played an epic performance on the Ellen DeGeneres Show, but the couple has bigger and even more exciting firsts for their daughter coming up. They've got one more baby on the way; Teigen is currently pregnant with their second child, according to Us Weekly.
"I'm having a baby boy in the spring. I'll tell you — it's June!" the 32-year-old Sports Illustrated Swimsuit model also told Ellen, according to Us Weekly.
So Luna is soon to be a big sister, too. Though they're unsure how she'll handle the responsibility and they're not entirely sure she quite understands that a baby brother is coming. If there's one thing that's for sure, however, it's that Luna is bound to have another Legend fan to go to shows with and cheer their dad on from the couch.
Editor's note: After publication, we discovered this article did not meet our editorial standards. There were portions that did not correctly attribute another source. It has been updated to meet our standards.
Check out Romper's new video series, Bearing The Motherload, where disagreeing parents from different sides of an issue sit down with a mediator and talk about how to support (and not judge) each other's parenting perspectives. New episodes air Mondays on Facebook.