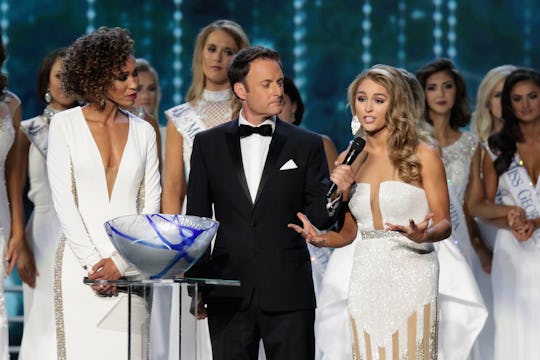 Donald Kravitz/Getty Images Entertainment/Getty Images
Miss Texas Won The Internet When She Addressed Trump's Charlottesville Response
Beauty pageants aren't exactly known for being a discussion platform for hard-hitting world issues, but when Miss Texas, 22-year-old Margana Wood, was lobbed a question Sunday night asking for her take on President Donald Trump and the white supremacists who rallied in Charlottesville last month, well, she didn't even sort of hold back. And judging from the popularity of this video of Miss Texas talking about Trump's Charlottesville response, it seems that even though she missed out on taking the Miss America crown, Wood still pretty much won the night.
According to Entertainment Weekly, judge Jess Cagle asked Wood what she thought about Trump's post-Charlottesville claim that there were "very fine people on both sides," despite the fact that one of those sides was literally comprised predominantly of racists and neo-Nazis. Wood only had 20 seconds to respond, but not only did she not even sort of miss a beat, she also came right out and called the violence in Charlottesville — which led to the death of 32-year-old counter-protester Heather Heyer — "a terrorist attack." Wood said,
I think that the white supremacist issue … it was very obvious that it was a terrorist attack. And I think that President Donald Trump should have made a statement earlier addressing the fact and making sure all Americans feel safe in this country. That is the number one issue right now.
To be clear, asking a potential Miss America about her take on white supremacy should probably be considered a softball question — the blatant expression of racism should always be seen as totally offensive and awful and wrong, and you'd expect any contestant to say so. Yet, the fact that we live in a time where the actual president of the United States feels completely justified in suggesting that there is actually such a thing as a "very fine" neo-Nazi means that the question was totally necessary and relevant — and that Wood's straight-up answer was exactly the appropriate response.
Unsurprisingly, Wood's words were a big hit on social media, where the recent University of Texas at Austin grad received major praise for her answer:
But whether she intended to make a nuanced statement or not, Wood's response had other layers of meaning, too. For one, Wood represents Texas, a state where, according to Vox, 52 percent of voters cast their ballots for Trump in the 2016 election. Given how much time, money, and effort Wood has probably put into her pageant career to get this far, she likely had a pretty good sense that calling the Charlottesville violence a terrorist attack and speaking out against the president might not exactly go over so well with her home-state supporters. But, she did it anyway.
Then there's also the fact that Trump himself is certainly no stranger to the world of beauty pageants: according to Newsweek, he owned the Miss USA pageant from 1996 to 2015. Given that Trump is now the leader of the country — and given the social and political importance of what happened in Charlottesville — his comments were obviously significant regardless of his history. But it also shouldn't be ignored that former Miss USA contestants have publicly alleged that Trump had entered the dressing room of the pageant contestants without their consent or knowledge, according to Rolling Stone — something the president actually acknowledged back in a 2005 interview with Howard Stern. Trump said,
You know, no men are anywhere. And I'm allowed to go in because I'm the owner of the pageant. And therefore I'm inspecting it... Is everyone OK? You know, they're standing there with no clothes. And you see these incredible-looking women. And so I sort of get away with things like that.
To be clear, Wood almost certainly wasn't trying to make a statement in solidarity with all her fellow beauty queens by speaking out against Trump (she had 20 seconds, after all, and a much more pressing topic at hand — not to mention that they're different pageants). But given the allegations, it still felt like a pretty big moment to see her call out Trump on the pageant stage.
Wood doesn't appear to be a stranger to standing up for what she believes in, though. According to Wood's Miss America page, her platform issue is "You Belong," a bullying-focused platform meant to "help share the importance of respect and inclusion," and to "[encourage] audiences to embrace the notion that we can live in a judgement free society where everyone belongs." But it's not just an abstract idea: according to OutSmart Magazine, Wood had the most LGBTQ-friendly platform of all candidates, which is a fairly gutsy move when you're vying for a $50,000 scholarship prize and are representing a red state.
Ultimately, Wood didn't quite get as far as she'd hoped: according to Vox, she was the fourth runner-up, while Miss North Dakota, Cara Mund, took the crown. But she can at least feel pretty proud of herself today knowing that she spoke her mind — and that there are a lot of people on social media applauding her for it.