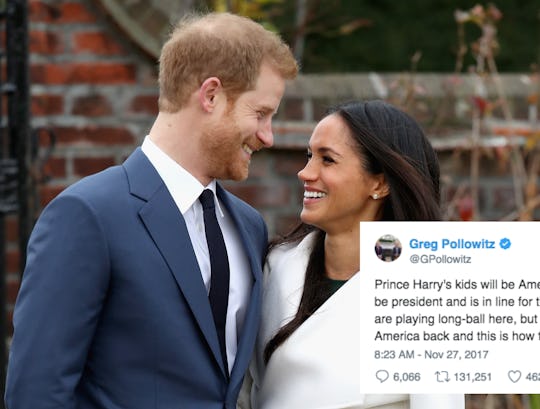 Chris Jackson/Getty Images Entertainment/Getty Images
This Viral Theory About Prince Harry & Meghan Markle's Potential Kids Is *So* Brilliant & Hilarious
Social media always seems to enjoy a good celebrity love story — and given that this love story involves a literal prince and a beautiful actress, it's not surprising that Prince Harry and Meghan Markle's engagement announcement erupted on Twitter Monday. Well-wishes came pouring in, along with plenty of speculation over the wedding details, opinions about her ring, and celebratory tweets over the fact that the future mother-in-law of the man currently fifth in line for the British throne will be a black, dreadlock-wearing yoga teacher who actually sounds like the raddest person alive. But the internet also loves a good conspiracy theory, and honestly, this viral theory about Prince Harry and Meghan Markle's potential kids is pretty amazing.
On Monday, Prince Harry and Markle sat down together for their first-ever televised interview, and, well, they were completely adorable. They spoke about the fact that Prince Harry got down on one knee to propose while they were having a nice night in with a homemade roast chicken. They talked about jetting off for a camping trip in Africa not long after they'd met, spending five days together completely alone in a tent in the middle of nowhere. They held hands and spoke about their dreams and shared goals for the future. And, of course, they were asked if they were planning on having children.
Even though I'm a mom myself, that question always kind of irks me. Prince Harry has always seen like an adventurous free-spirit, and Markle comes across as strong and confident with a strong desire to make the world a better place. Sure, it would be lovely to watch them have little ones (playmates for Prince George and Princess Charlotte perhaps?) but they could also have just as much of a fulfilling life without kids as with them (which is actually the case for all couples, really). And given that they don't have the expectation of "producing an heir" like Prince William did when he married Kate Middleton, it seemed kind of unnecessary to ask about their baby-making plans — there are plenty of reasons why a couple would want to marry that have nothing to do with having children, after all.
But, answer they did: When BBC's Mishal Husain asked the couple, "Children?" Prince Harry joked, "Not currently, no," before answering, "No, of course. I think, one step at a time, and hopefully we'll start a family in the near future."
That might mean that the couple really does intend to start having babies soon, or it could just be the thing you're supposed to say when you're a prince and you're being interviewed on TV. Or maybe it's a hint about something else entirely — at least if social media has anything to say about it.
Following the engagement announcement yesterday, Twitchy.com editor Greg Pollowitz took to Twitter to offer up a particularly creative prediction on the true meaning behind Prince Harry and Meghan Markle's union. Whether the couple was truly as in love as they seem, Pollowitz couldn't help but wonder if it wasn't all part of a genius master plan on behalf of the British royal family to regain their kingdom's once-far-reaching global empire, beginning with a certain North American superpower with a Twitter-loving leader:
The theory was, of course, pretty tongue-in-cheek, but it's a pretty intriguing idea. Like maybe it should be Netflix's next original series based on a top-secret government mission to groom the couple's inevitably-beautiful first-born child to one day take the White House and place the country under Commonwealth control. Naturally, this would all be the Queen's idea too, because despite appearing to be a lovely little old lady with a very posh accent, everyone knows she's really a total badass.
Regardless of the tweet's plausibility, Twitter users were loving it:
Although some did note that there could be citizenship technicalities that would thwart this plan (and according to CNN, Markle has already said she intends to become a British citizen):
And, um, there would perhaps also have to be a whole lot of death involved:
So, in other words, Americans probably won't ever see a half-British, half-American, heir to the throne living at the White House, which is probably for the best. But there's no denying that a secret, Illuminati-style, American takeover by Prince Harry and Meghan Markle's babies would still be the coolest, and weirdest, thing to ever happen.
Check out Romper's new video series, Romper's Doula Diaries:
Watch full episodes of Romper's Doula Diaries on Facebook Watch.