This Website Lets Kids Design Their Own Clothes, & Yes, It Is As Cool As It Sounds
When I was a kid, I went through a stage where I totally wanted to be a fashion designer. I may have had pitiful design skills, couldn't sew (I still can't) and also happened to have little actual interest in fashion, but for some reason, the notion still intrigued me — and I'm pretty sure I wasn't the only child to feel that way. My own design dreams may have never extended much further than a few bad, random sketches, but it's 2016 now, and there's a website lets kids design their own clothes, because the internet is a magical place where pretty much everything is possible.
According to The Huffington Post, Picture This Clothing is a web-based company started by entrepreneur/mom Jaimee Newberry that literally turns your child's design into an actual, honest-to-goodness dress that they can wear out in the world. Basically, you print the dress template off of the company website, let your child go at it with crayons or markers to design the dress of their dreams, and then upload a photo of it and send it in. $49 plus shipping later (and currently about 25-30 business days), and your child's artwork will show up on your doorstep in actual dress form. Seriously, how cool is that?!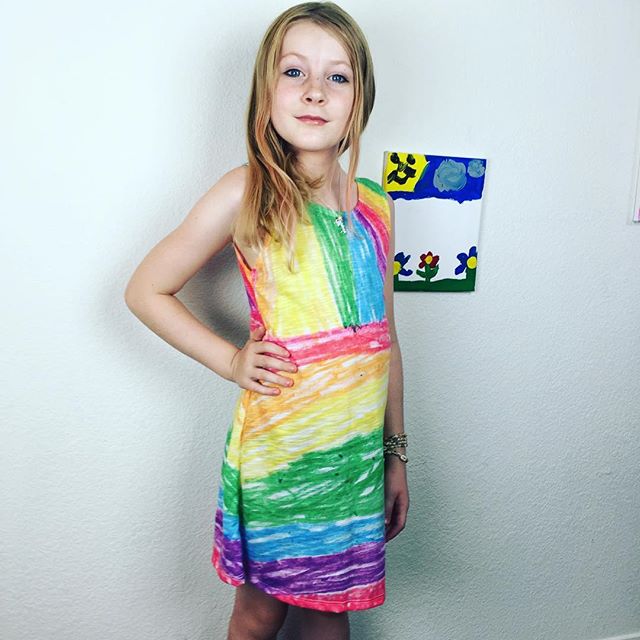 According to a post on Medium written by Newberry, the idea for Picture This Clothing came about after Newberry sewed a handmade dress for her daughter Zia, based on a colorful, rainbow-striped design she had drawn. The original dress was a big hit, not only with Zia herself, but with her friends, who (obviously) thought it was super freaking cool. Newberry was inspired to turn this little project into a small business, but Zia's original dress had been expensive and time-consuming to make, requiring an original pattern, and lots of fabric and sewing time. With a little finesse, Newberry and her business partners realized they could simplify the process by using a standard, coloring book-style template that customers could print and customize, and as a result, Picture This Clothing was born.
Unsurprisingly, the idea has really taken off. Following the company's launch on August 17, Newberry told TechCrunch that the response "has been incredibly positive," and that the success of the dresses could mean that Picture This Clothing could offer a variety of different self-designed clothing options for kids in the future. That is super awesome, especially for kids who don't wear dresses, or who are outside the current size range of girls 2 to 12. Newberry told Babble that, while their current product might be kind of limited in terms of audience, they wanted to start small to ensure it was a good quality product:
We launched with just the dress for two reasons. First, we wanted to test the market and see if people would actually buy the product! And second, we wanted to make sure the finished piece of clothing that arrives in your mailbox is a great piece of clothing. So our launch was very focused on accomplishing those goals.
That means that it's possible that t-shirts could be added to the lineup soon — although what I'd like to know is, when will there be adult sizes? (Hey, if Angelina Jolie's kids' can help design her wedding dress, than I'd certainly be down to wear a dress made from my own kids' drawings out in public!)
In other words, Picture This Clothing might just end up becoming to Millennials what "walking 5 miles to school in the snow" was for our parents — when we were kids, we had to learn to sew if we wanted to make our own clothes! But honestly, is there anything cooler than getting a package in the mail containing a dress that looks just like the picture you drew and sent in? I'm pretty sure there isn't — no matter how old you are, come to think of it.