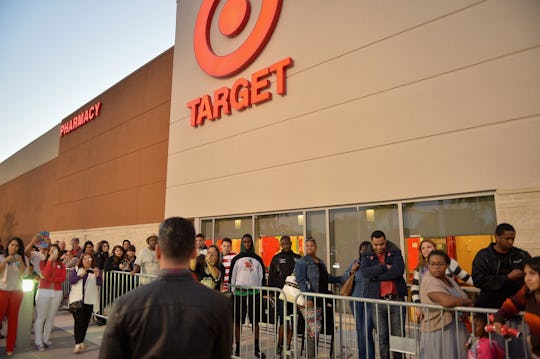 Gustavo Caballero/Getty Images Entertainment/Getty Images
This Weekend Is Your Once-A-Year Chance To Save 10% On Target GiftCards
It is officially the first of December which means holiday shopping is among everyone. The countdown to find the perfect gift for all of your friends and your family members has begun and the days until the holidays are starting to dwindle. While the thought of the holidays sound incredibly stressful, there is always a solution to finding the perfect holiday gift — by having the person in question buy it themselves with a giftcard. And luckily for you, this weekend is your once-a-year chance to save 10 percent on Target giftcards so your holiday shopping can be done at the beginning of the month.
This Sunday, Dec. 3, Target giftcards up to $300 will be on sale for the only time this year, for just one day, saving you money while still giving the recipient their full value. There is so much to look forward to in December — like the holidays, the end of a very eventful year, and the awesome sales in stores. Target is one of those places where you can always find a good deal, but their sale this weekend might possibly be one of the best, yet.
Shopping during this time of the year is hard, especially when there are so many teachers, friends, family members, and gift exchanges to shop for — and it seems as finding the perfect gift for all of those people is nearly impossible.
The great thing about this is that you don't even have to go in store to purchase the giftcards at their discounted cost. You can purchase Target giftcards online, too, and load them up with balances ranging from $5 to $300, making holiday shopping that much easier. But it is important to note that there are some exceptions to buying Target giftcards.
These aren't just any ordinary giftcards. There will be nine new giftcard designs debuted in the sale, according to Target Corporate, including a nifty "scratch-n-sniff gingerbread train." Talk about one very special present anyone would be happy to receive.
People really love Target. It is one of those places where you can go in for one thing, end up lost in the aisles for hours, and emerge with 10 things. Giving someone the great gift of a Target giftcard gives them permission to this and who wouldn't want that?
This is one of many of Target's Weekend Deals, which they'll debuting each weekend leading up to the holidays, according to Target corporate. Each deal comes as a surprise each week, according to Target corporate, and the sales will be on "everything you need for the holidays" — even stuff that never goes on sale (like giftcards, obviously). This, combined with coupons from their Cartwheel app, means spending less at your favorite store for the holidays.
The weekends are a very special time for Target shoppers. Twice as many people shop at Target on the weekend (after that hectic work week), than on the average work day, according to Target corporate. The average Target shopper, according to Target demographics, is female with kids (45 percent of them have more than three people living in their household). With there being so much to balance during the week, it makes sense as to why shoppers would want to go for these deals during the weekend.
And these sales should be taken advantage of. A survey conducted by the National Retail Federation found that the average consumer in 2017 said they will spend an average of $967.13 on gifts, food, decorations, and all of the expenses associated with the winter holidays. So if the opportunity to cut down those costs come along, people should take it.
The holidays don't come cheap or stress free, but this one-stop (discounted) shop this weekend might reduce just a bit of that holiday anxiety.