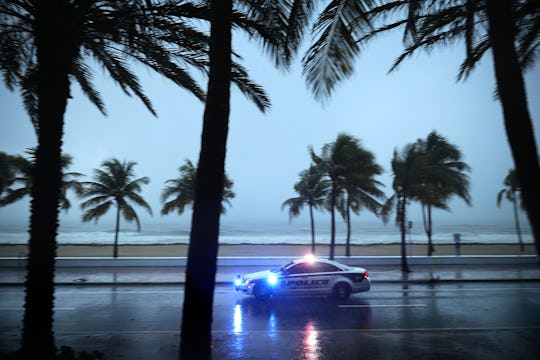 Chip Somodevilla/Getty Images News/Getty Images
This Woman Gave Birth While Evacuating For Hurricane Irma & Her Name Is Perfect
Although Florida is no stranger to disastrous weather, Hurricane Irma is expected to be one of the largest storm systems to every move through the Caribbean to the mainland. It's pretty terrifying, which is why residents were instructed to start evacuating early this week. If you've never done it, it's hard to imagine how stressful evacuating is when you're healthy and able. When you're sick, disabled, or even pregnant? It's insanity. But not impossible, as this woman who gave birth evacuating for Irma knows.
Can you imagine? On Saturday, Miami-Dade County Police posted the good news to their Twitter account amidst the chaos. The infant arrived just hours before the Category 3 storm hit the area, and the family had to get out of the hospital stat. "Glad our officers were able to assist the family safely from hospital to hotel. #PerfectName," the police department captioned the photo.
Her name is Nayiri Storm — which is absolutely perfect. "Welcome to the world," the police department added to picture of the newborn still wrapped in her hospital blanket.
Although some hospitals shut down at the end of last week in preparation for storm, others stayed open, according to Reuters, solely to accommodate a surge in births during the hurricane.
When Hurricane Harvey hit Texas, births spiked in Houston. According to Memorial Hermann Health Systems, five of the non-profit hospitals with delivery units reported an increase in births during the storm. In three of those five, the number of births doubled.
Dr. Shannon Clark, an associate professor in the division of maternal fetal medicine at University of Texas Medical Branch in Galveston, on the Gulf of Mexico said that the reason for the increased births is inconclusive, though it could have something to do with the low barometric pressure that comes with a hurricane.
Studies done between 1985 and 2007 found that pregnant women were likely to go into labor with the drop in barometric pressure. They were also more likely to have complications during birth, hence the hospitals staying open to prepare for any emergencies. There's no direct correlation, but being prepared never hurts, especially when resources like electricity and clean water are in demand.
Clark said, "There's some studies that show an association and some that don't. It's kind of mixed. It's still worth it to forewarn pregnant women in areas that are going to get hit that there could be a potential complication."
Luckily, little Nayiri Storm arrived safe and sound. Hopefully, all the other "hurricane babies" do, too.