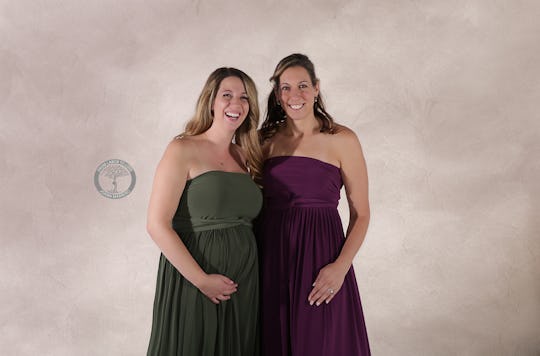 Courtesy of JoAnn Marrero
This Story Of A Woman Who's Pregnant With Her Sister's Rainbow Baby Is A Must-Read
Sisters Anna Howat and Beth Gaudino were already bonded for life long before either one of them became an aunt to the other's child. Soon, though, they'll both be in that happy position, as Howat now as a 1-year-old daughter and Gaudino has one on the way. But their paths to becoming mothers are much more entwined that most sisters' are, as they suffered miscarriages and the devastating loss of babies together, with each sister struggling to have the family she wanted, as People detailed in a recent feature. And now, Howat is pregnant with her sister's rainbow baby after Gaudino lost her twin son and daughter just a couple of years ago. It's been an incredibly intense, emotional journey for both of them, but they're now well on their way to the happiest of endings.
According to People, Howat had recently experienced two miscarriages when her sister learned that she has finally pregnant with twins in May 2015. Just a few short months later, though, heart-wrenching strategy struck: Both Grace and Savage passed away within hours of being born at just 20 weeks after Gaudino had a premature rupture, as People reported. It have been such a horrible blow, for all the reasons that such a loss would be terrible for anyone, but also because the now- 32-year-old Gaudino's endometriosis has made it difficult for her to get pregnant. She ultimately did so through IVF, People reported.
And then, according to the magazine, the family experienced yet another blow: Howart, 29, had her third miscarriage in October of that year.
"I feel like it's not the same losing babies at 20 weeks as opposed to my miscarriages at 8 weeks, but I could know what she was going through in a sense," Howat told ABC News about her decision to carry her sister's baby. "Seeing your sister struggle even harder, of course you would do it."
A rainbow baby is a baby born after the loss of another baby, whether that be due to miscarriage, stillbirth, or death in infancy. The term's very existence is bittersweet, that's for sure, but here's some undeniably good news: Howat now has her own rainbow baby, 1-year-old Penelope and, now, she's pregnant with her sister's rainbow baby. The sisters pulled off the successful surrogacy transfer in May, and now Charlotte Grace is due in February.
Wow, right? Luckily, photographer JoAnn Marrero captured the women's extraordinary bond in a recently rainbow baby photoshoot with other expecting moms, as she shared with Romper:
As you'd expect, Howat and Gaudino are ecstatic about their situation. And, just as the term "rainbow baby" indicates, they're feeling hopeful about the future. They're now next-door-neighbors and want their new families experience the special closeness they've enjoyed as sisters, as Guadino explained to People. And she told ABC News that she would absolutely act as a surrogate for Howat, if their roles were reversed:
My sister says to people, "Well, wouldn't you do that for your own sister?" To her, it's not a choice that had to be made. Of course she would do it. I think it's amazing and I'd do it for her.
Being a surrogate for a sibling or close friend is an incredible responsibility. According to Surrogate.com, taking on the legal, emotional, and financial challenges unprepared can "permanently affect your relationship."
But considering all the low points each sister experienced trying to start their families, there's little doubt Howat knew exactly what she was doing when she volunteered to be Gaudino's surrogate. Also, they've proven that they stand by each other no matter what, and it doesn't seem as though this would be any different.