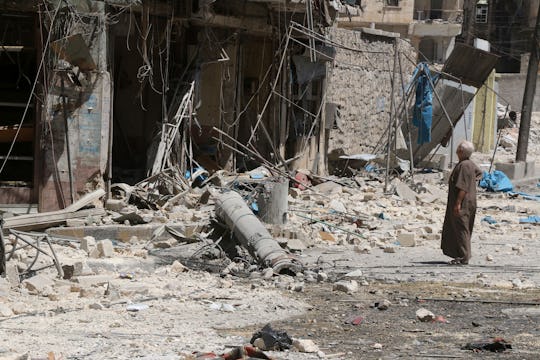 THAER MOHAMMED/AFP/Getty Images
This Young Boy's Face Reveals The Horrors Of A Conflict We're Ignoring
After five years of civil war, the horrors in Syria continue to escalate. In order to show the world the real damage it's causing, opposition activists have released video of a young Syrian boy in an ambulance just moments after his apartment building was destroyed by a Russian airstrike, according to the BBC. The boy has been identified as Omran Daqneesh, age 5. His parents and three siblings, ages 1, 6, and 11, were also pulled from the rubble. Luckily, none sustained any major injuries.
Omran was taken from his former home in the Qaterji neighborhood of Aleppo to a hospital known as M10, where Dr. Osama Abu al-Ezz told the Associated Press he was treated for head wounds and released. He explained that doctors use code names for area hospitals because the government has been targeting them in airstrikes. The airstrike that injured Omran was one of two carried out by a jet that reportedly took off from a Russian air base at Hmeimim on Wednesday. Their were no injuries in the first, but the second claimed eight lives, including five children. The Washington Post has reported that more than 400,000 people have died in Syria since the war began, and it shows no signs of stopping soon.
Control of the besieged city of Aleppo is split between President Bashar al-Assad's regime in the west, and rebels in the east. Fighting on Tuesday led to the main power plant becoming disabled. The plant was responsible for pumping water to 2 million residents. United Nations trucks attempting to deliver food and medicine have also been unable to reach the area. U.N. envoy Staffan de Mistura has been pleading for a 48-hour ceasefire in order to provide humanitarian aid to the civilians trapped inside the city. He called the U.N.'s weekly Syria task force meeting to a close after just eight minutes on Thursday, saying that there was "no point" in continuing if aid trucks weren't being allowed to enter the city. "I again insist on behalf of the Secretary General of the U.N. and of all the Syrian people (on having) a 48-hour pause in Aleppo to start with," Mistura told reporters, according to Reuters.
The conflict originated with the arrest and torture of a group of Syrian teenagers, who had painted graffiti challenging the president on the wall of their school in March, 2011. This led to protests calling for democracy, which were met with lethal force by Assad's security forces. Rebels began to arm themselves against the government, according to the BBC, and it quickly devolved into all-out war. Taking advantage of the turmoil, ISIS rose up to take control of parts of the country, creating, effectively, a three-sided war. The U.N. has been attempting to arrange peace talks between the government and the rebels since 2012, but has so far been unsuccessful.