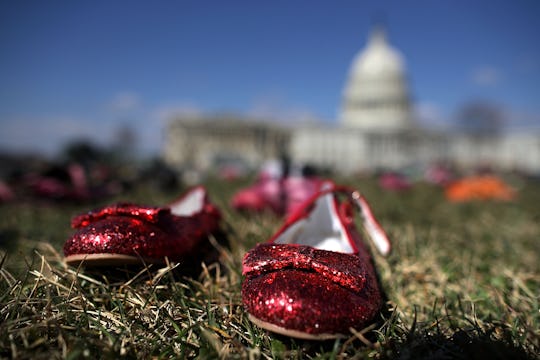 Chip Somodevilla/Getty Images News/Getty Images
Every Parent Needs To See These Photos Of 7,000 Pairs Of Shoes Displayed Outside The Capitol
Sometimes protest is the only way to get people to notice you and on Tuesday, gun safety advocates certainly got peoples' attention. AVAAZ, a U.S.-based civic organization, placed thousands of shoes of outside the Capitol building to commemorate the number of children killed by gun violence since the Sandy Hook massacre in 2012.
The temporary "Monument for our Kids" includes 7,000 pairs of shoes, which were collected within the span of two weeks and is meant as a lead up to the #ENOUGH National School Walkout planned for Wednesday, March 14 and the March For Our Lives on March 24, according to ABC News. Andy Nazdin, who helped plan the project with AVAAZ, told WTOP in Washington, D.C., "We're trying to bring the sense of heartbreak that's been felt in communities where these shootings have happened around the country straight to Congress' front door and demand that the time for real gun legislation is now."
AVAAZ activists and volunteers began placing the shoes, which were donated in part by celebs like Chelsea Handler, Susan Sarandon, and Bette Midler and by families who had lost a child in a school shooting, on the lawn at dawn in a trapezoid shape, as reported by the New York Post. There was also a banner that read, "#NotOneMore." Seeing all of those shoes really drives home the point that there are way too many kids who won't be able to participate in a walkout or march for gun safety.
Oscar Soria, spokesman for the online activist network Avaaz, told local NBC News affiliate News4 last week, "Before so many of us march in our capital and across the nation, we want to call attention to all those who can't and remind Congress that part of why we march is because [gun violence victims] can't."
Soria added in a statement to ABC News, "We are bringing Congress face to face with the heartbreak of gun violence. All of these shoes cover more than 10,000 square feet. About five families came that were victims of gun violence. It was an emotional moment today." One of those family members was Tom Mauser, whose son was killed in the Columbine school massacre. He said in a statement to AVAAZ that he found his son's shoes after his death and has been keeping them this whole time. He added:
I'll be traveling to DC literally wearing my son Daniel's shoes, the ones he wore the day he died at Columbine. I think this kind of event with shoes offers a very powerful metaphor both for how we miss the victims who once filled those shoes, and also for how we see ourselves wanting to walk in their place, seeking change, so that others don't have to walk this painful journey.
It Was A Moving Day On Capitol Hill
It has been painful to watch people die in shootings that likely could have been prevented, and it has been for far too long. The only ray of hope when it comes to convincing Congress to act in the name of gun safety is that after the shooting in Parkland, Florida in February, the country is still talking about enacting change. And doing things like this installation, along with the walkouts and marches to get people on board. It feels like if something it going to change, maybe it's going to now.
President Donald Trump previously suggested some proposed legislation to prevent gun violence, but then stepped back from some of the more controversial suggestions, like raising the age limit to buy an AR-15, which the National Rifle Association is against, according to Vox. He has also doubled down on the idea that arming teachers is the best way to keep students safe, although gun safety experts disagree, as reported by CNN.
Hopefully, if Americans keep pressuring Congress to do something about gun violence, they eventually will. Knowing that all those shoes represent an actual human life is hard to ignore.