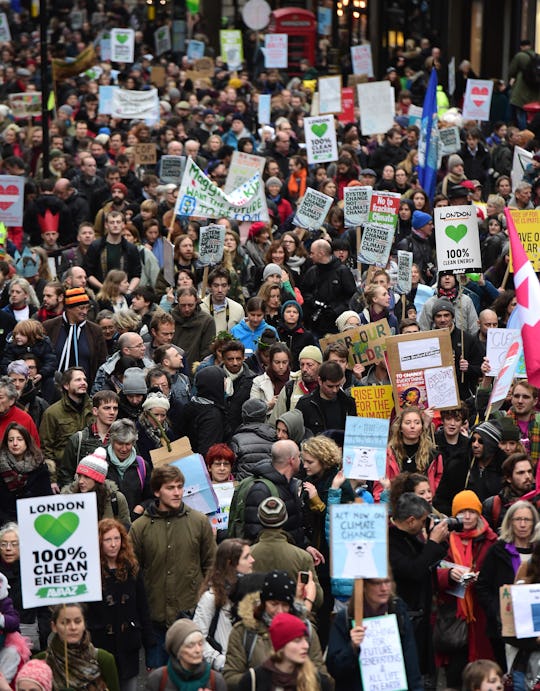 AFP/Getty Images
Thousands Protest Climate Change All Over The Globe, & The Images Are Pretty Powerful
In preparation for the U.N. Climate Summit this week in Paris, thousands walked in the Global Climate March. There were more than 2,100 events and over 50 marches planned for this weekend, making it one of the largest climate change protests in history, according to organizers. But in Paris, the protests had to be cancelled, due to security concerns related to the Nov. 13 terror attacks. At Place de la Republique, protesters laid out pairs of shoes in honor of the victims of the attacks who could not march. One pair was even donated by Pope Francis.
According to the BBC, Paris police broke up some small demonstrations that sprang up across the city. Since gatherings have been declared illegal while Paris is still operating under a state of emergency, activists formed a human chain to demonstrate today.At one point, Paris police used tear gas to break up the protests. About a hundred protestors were detained when the demonstration began to get violent. Joe Ware, of Christian Aid, witnessed the protests and old the BBC that:
There were flares being set off, and at one point there were a couple of loud bangs, and shortly after that one group of riot police started running towards the protestors. The protestors were mainly French, all the signs were in French, they looked like French political protestors. It looked like there were hundreds, rather than thousands.
Even some famous faces emerged from the crowds — like actress Emma Thompson, who marched with protestors in London and spoke to SkyNews about how seriously she takes climate change. On her personal efforts to stay green, Thompson shared:
I haven't taken a plastic bag from a supermarket in about ten years. ...I walk everywhere, I never drive. We do have a car, but we really don't use it...I walk in Los Angeles, I nearly get arrested or I nearly get killed because cars are everywhere.
Here are some other powerful images from marches today:
The U.N. Climate Summit, known as COP21, begins tomorrow in Paris and 195 countries will be represented. The focus of the summit is to come up with a plan for limiting greenhouse gases and passing other, international standards and laws to prevent climate change. President Obama will attend.
More demonstrations are scheduled for Sao Paolo and New York today.
Image: AFP/Getty Images