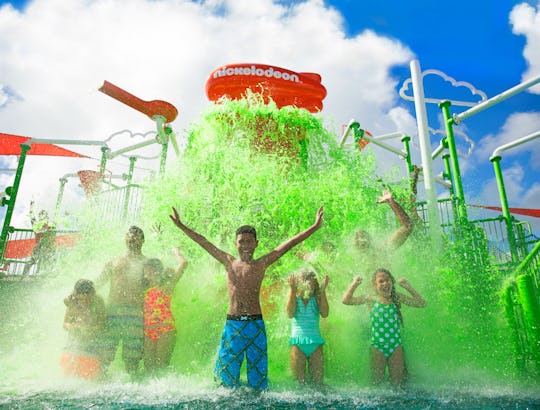 Courtesy of Nickelodeon Hotels & Resorts Punta Cana
Zulily's Thrill Week Sale Includes Epic Deals Like A $30 Family Vacation For 4
Summer is breezing by, which means that soon we'll all be trading in your swimsuits and beach towels for more work or school-appropriate attire. Whether you need to stock up on back-to-school shopping or revamp your own wardrobe before the fall, this is a fantastic time to do so because zulily's Thrill Week is going on now, and it's the online retailer's biggest sale of the year. Discounts for new moms and kids alike are a huge feature of this sale, so you may want to check it out soon.
Moms flock to zulily for their impressive deals and it looks like the online retailer is pulling out all the stops for Thrill Week. From July 23 to 27, zulily offers a daily Big Thrill, many limited-time Dashes for the Deal, and plenty more surprises for its online, mobile, and social channel shoppers.
Living up to its name, The Big Thrill is the most exciting part of this huge sale. Only one Big Thrill is available each day of the sale, but each one is major. By following the three clues released when each sale is available, shoppers might score an entire family vacation for $30, or a $2,000 wardrobe for $10. These singular deals are only available on a first-come, first serve basis. Chances are, more than a few people will be searching for these major discounts on big-ticket buys during the week.
In addition to The Big Thrill, loads of other deals are available at zulily during Thrill Week. In fact, it's a great way to get the jump on back-to-school shopping. Dash for the Deals sales, which are only available for a few hours or until supplies run out, include finds such as Crayola carousels for only $6. Plus, Thrill Week will also offer discounts on brands that many families love, including Skip Hop, Melissa and Doug, MyPillow, and Klean Kateen.
The sale is offered as a way to thank the company's dedicated customers. "With a 91% repeat order rate, we know our passionate customers enjoy their daily dose of discovery, which is why we wanted to give back in a big way by launching our biggest sale of the year in celebration of thrill seekers everywhere," said Kevin Saliba, senior vice president of Marketing for zulily. "Each day during zulily Thrill Week, shoppers can browse the 'doorbuster-sized' deals our team has curated from brands like KitchenAid, Crayola, Cuisinart, Klean Kanteen, cabi and more." Seriously, the discounts are pretty impressive on some of these items.
Founded in 2010 by Darrell Cavens and Mark Vadon, zulily is an online retailer created to help families find the clothing, décor, toys, and gifts they need at a discount. It offers deals on brand name items, and the stock changes constantly. You do need to sign up in order to view the sale items, however. But if this sounds like a good match for you and your family, then it's probably the best time to check out the site. These thrilling deals are kind of tough to beat, honestly.