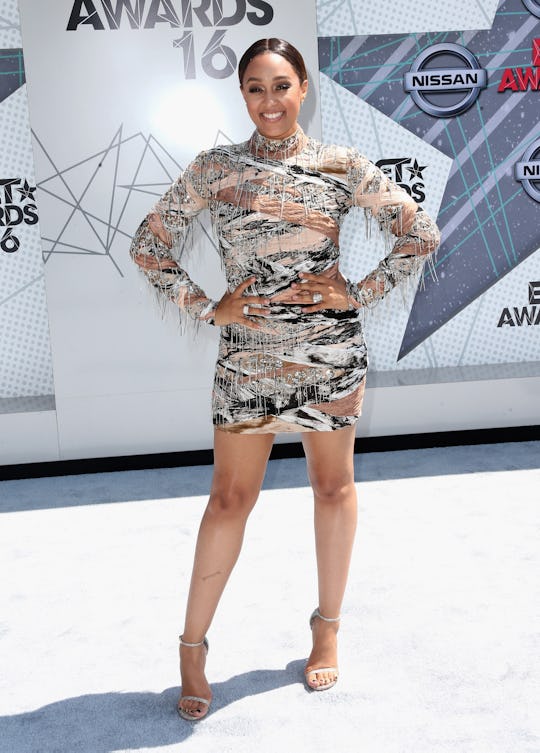 Frederick M. Brown/Getty Images Entertainment/Getty Images
Tia Mowry-Hardrict Reveals The Sex Of Her Baby In The Cutest Way Possible
Sister, Sister star Tia Mowry-Hardrict announced back in November that she and husband Cory Hardrict were expecting their second child together, according to People, and on Friday, she revealed her baby's sex in a sweet video on her YouTube channel. Tia Mowry-Hardrict is expecting a baby girl, and the second-time-mom-to-be was super excited to finally share the news with her fans.
As much as many millennial moms will forever think of Mowry-Hardrict as Tia Landry from the '90s sitcom she starred in with her twin sister, Tamera Mowry-Housely, these days, Mowry-Hardrict has branched out beyond acting. Already a mom to her six-year-old son, Cree, she released a cookbook, Whole New You, in 2017, and now hosts an online series, Tia Mowry's Quick Fix, where she offers up lifestyle tips for busy women. In the latest episode, Mowry showed viewers different options for making sex-reveal party goodies, including cupcakes with pink or blue frosting on the inside, and cake pops made from pink or blue-dyed cake mix. During the segment, Mowry-Hardrict chatted about her pregnancy — including her larger-than-expected six-months-along baby bump — and shared that, while her mother may still be holding out hope that Mowry's Hardrict is expecting twins, having two babies at once wasn't exactly something she had her heart set on. She said,
When I'm around my mom, she's always like, 'Tia, are you sure you're just having one?' And I'm like, 'Mom, do not put that on me, I do not want to have any twins.' I don't know why people think that just because you're a twin, you want to have twins!
On Instagram, Mowry-Hardrict teased her sex reveal, and encouraged her followers to leave their baby predictions in the comments before heading over to watch the video on YouTube. And after Mowry-Hardrict finished up showing viewers how to make their own impressive-looking 5-layer reveal cake, she finally shared her big news: the pregnant star took a bite out of one of her pre-made cake pops to let the world know that she was actually expecting a baby girl. Showing off the pink-hued treat, she said, "We're having a girl! Cree is going to have a baby sister. We are so excited."
As happy as the Mowry-Hardricts are to soon be becoming a family of four, the pregnant vlogger revealed in an interview with Parade in Feb. 2017 that getting pregnant the second time around wasn't exactly easy. Mowry-Hardrict said that she suffers from eczema and endometriosis, inflammation-causing conditions she worried was making it more difficult to conceive. As a result, she said she made dietary changes and "[went on a] detox for a year trying to get pregnant," and afterward, she says she was able to get pregnant right away. Both Mowry-Hardrict and her doctor attributed the quick pregnancy to her diet, and those changes eventually became the inspiration behind Whole New You, which offers up ways to swap out dairy, refined sugars, and processed food for healthier options.
Now, Mowry-Hardrict regularly shares glimpses of her pregnancy family life on social media with her followers, but it's clear that Mowry-Hardrict isn't the only one thrilled at the prospect of her baby's arrival. Shortly after Mowry-Hardrict's November pregnancy announcement, Tamera Mowry-Housley shared a photo on Instagram of herself with her sister, writing in the caption how excited she was to be becoming an aunt again.
When Baby Girl Hardrict does arrive, it sounds like she will have no shortage of either love or playmates. In addition to her big bro, auntie Mowry-Housley already has two children of her own, 5-year-old son Aden, and 2-year-old daughter Ariah. And though Mowry-Hardrict might not have any burning desire to have twins herself, it's clear the bond between the two women is seriously strong. After her own daughter was born in 2015, Mowry-Housley said she didn't even have to break the news to her sister when she first learned she was expecting, according to The Daily Mail. The Real co-host explained,
We have this thing where we wait until eight weeks because we want to make sure everything is okay. But my sister gets it because we're twins. She just called me and she was like, 'Are you pregnant?' And I said, "Yep, I am!'
Now that the sex of Mowry-Hardrict's baby is out of the bag, it'll no doubt be fun to see how she prepares for her arrival. But the good news for fans of the Mowry sisters is that they both seem to love opening up their world to their social media followers. So between their active Instagram feeds, and Tia Mowry's Quick Fix on YouTube, it seems pretty safe to say there will be lots of great baby-themed updates still to come.
Check out Romper's new video series, Romper's Doula Diaries:
Watch full episodes of Romper's Doula Diaries on Facebook Watch.