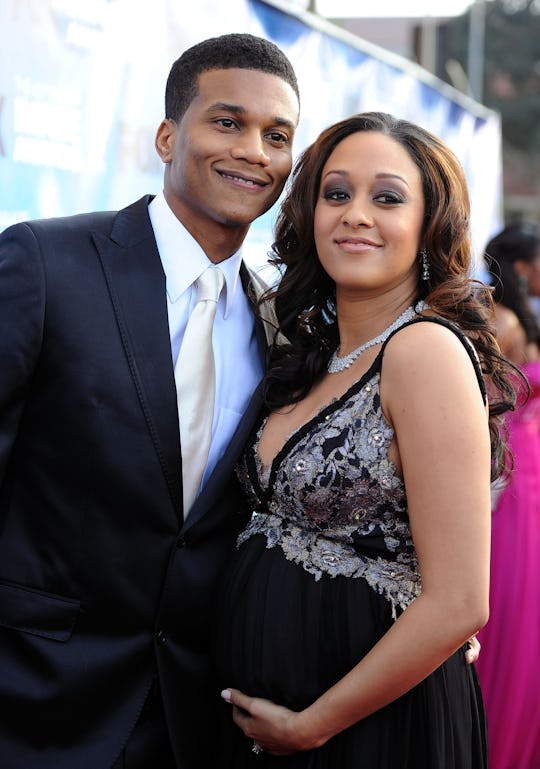 Frazer Harrison/Getty Images Entertainment/Getty Images
Tia Mowry Is Pregnant With Baby No. 2 & Her Announcement Couldn't Be Sweeter
In an incredibly cute Instagram post on Wednesday, Tia Mowry announced she's pregnant with her second child. Yes, it's true, the Sister, Sister star and real-food enthusiast is expecting another bundle of joy with husband Cory Hardrict. The 39-year-old actress has been open about her struggles with her health in the past, so this news is certainly something to celebrate. The seriously adorable announcement photo features Mowry standing with Hardict and their son, Cree Taylor, as they give her bump a smooch. Clearly, the whole family is excited for this baby-to-be to arrive.
And while Mowry hasn't said much about her pregnancy, her caption of the announcement photo kind of says it all. Four simple red heart emoji accompany the photo, likely a nod to the future family of four. Previously, Mowry had described the want to be pregnant as a huge motivator in restarting her health and diet regimen. In her book, Whole New You: How Real Food Transforms Your Life, for a Healthier, More Gorgeous You, Mowry revealed that a year after she kicked out some bad health habits, she was able to get pregnant with her first child, 6-year-old son Cree. And now, Mowry is preparing to welcome another baby into the world, and her photo proves the family is so ready to grow.
And while news of a baby is certainly pretty exciting, this is not the only good news to come out of the Mowry family lately. According to Us Weekly, a long-awaited revival of Mowry's hit '90s sitcom, Sister, Sister could be in the works. The show — which stared both Tia Mowry and her real-life twin, Tamera Mowry — was a huge hit back in the day, and a revival would certainly be on trend with other '90s shows making a comeback (think the Netflix Fuller House reboot, and the new season of Will & Grace).
Truly, nostalgia is a powerful emotion, and the thought of one Mowry sister getting to have another baby, as well as her hit show coming back into the lives of all '90s kids? Well, I never knew how much I missed them, but I'm so glad Tia and Tamera are back, and that one of them is so happily expecting! And it seems that I'm not the only one excited for all this lovely news. Mowry's sister Tamera also took to social media on Wednesday to share her excitement at being an aunt again, tweeting out her sister's Instagram and exclaiming that she's so excited the world knows now.
For now, it's unclear just how far along Mowry is in her pregnancy, although it's likely she's past the first trimester, as most pregnancy announcements — especially from celebrities — seem to wait until after that milestone. What is clear, though, is that the Sister, Sister reboot appears to be happening sooner rather than later. When Mowry spoke to Us Weekly about the show's revival, she was confident that it would be coming to a screen near you pretty soon:
[It's] amazing and wonderful. My sister and I are taking meetings as we speak, so it's definitely closer than ever to making this reboot happen. We are being told that they want it to be or happen next year in the fall. So, it's going by so fast, everything.
Mowry really has everything going for her right now, doesn't she? She's healthy, joyful, pregnant with her second child, happily married, and working on bringing back one of television's most iconic sitcoms. So, while the concept of "having it all" is certainly misconstrued many times over, it seems as though Mowry just may have it all, whatever "all" is.