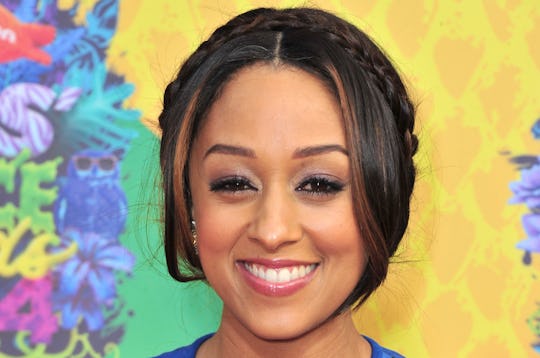 Frazer Harrison/Getty Images
Tia Mowry Says Her Baby Cairo Blew Her Away With What She Did Immediately After Birth
"We moms we rock; we are rock stars." Tia Mowry, actress and mother of two, is having a moment right now. On the phone to Romper, she talks about being back in the baby zone seven years after giving birth to her son, Cree. In keeping with her trademark honesty, Tia Mowry talks about the breastfeeding challenges that await new moms, right out of the gate. "The biggest struggle for me was wondering and stressing if my baby was getting enough milk. I've had to learn that if she's happy and content then we are doing just fine. I had to learn to relax and listen to my baby."
She goes on, "They know what they are doing more than we do. It's amazing how it's such a natural process and how they will take these small movements toward your breast just right after birth. It's a mind-blowing experience."
Having welcomed baby Cairo in May of this year, Mowry seems super in tune with her second child, pumped about motherhood, and keen to buoy other moms with her knowledge .
If you got your first tiny backpack in the '90s, it's a sure bet that you love Tia Mowry. She and her identical twin sister Tamera Mowry were the stars of the Disney Channel's Sister, Sister ("...even though I'm glad to be with ya' I gotta do what's right for me…") for six seasons, from 1994 to 1999. (In good news for those of you who love a kitchen dance-break, a rumored Sister, Sister reunion is underway, per US Weekly.)
Now out in the wilds of adulthood with all of us, those who have the privilege of following Tia on Instagram have seen her share ~all~ the realness of motherhood. Whether it be shouting out her choice to prioritize comfort over style in her third trimester, or touting "boobs, glorious boobs" on a post about her postpartum body, she goes hard on positivity and honesty ("p.s. my ankles have returned!"). In a world where we are bombarded by curated parenting images and post-baby bodies that seemingly snapback like rubber bands, it's refreshing to have someone like Tia in our corner.
Being open about her breastfeeding journey puts Tia in a unique position to use her experience as a black woman and breastfeeding mother to bring change and education to the African-American community. We are currently in the midst of "Black Breastfeeding Week," an effort to boost rates of breastfeeding in black communities, where black infants consistently have the lowest rates of breastfeeding initiation and duration, per CDC data. In part, those rates stem from a lack of support and education provided by hospitals to mothers.
"I think awareness and being an example are key," says Mowry. "If myself and others are open about breastfeeding, it will make other moms feel comfortable about the whole experience."
She's clear that asking for help, if needed, is key to an ongoing breastfeeding relationship. "I have an amazing lactation nurse Jennifer Davidson who's been with me every step of the way. She's been a huge help."
Of course, Mowry is juggling the newborn funhouse — replete with sleep deprivation, spit-up, endless feeds, and diaper explosions — with raising her older son Cree, who is preparing to go back to school after summer break.
Mowry says she has always been very passionate about education (she studied psychology at Pepperdine University) and has partnered with Office Depot this year on a new back-to-school initiative to support underserved schools.
"I love that Office Depot has been giving back to low-budgeted schools for 30 years," she says. "What's so great is during this back-to-school year, as you're buying supplies for yourself, you can also donate to low-budgeted schools."
If you are a parent of more than one child or are expecting your second, you have probably heard from others that going from one to two children will rock your world. And that was true for Mowry as well.
"My goodness. A lot of people told me that going from one to two would be harder than going from two to three, and I believed them."
I've had those moments where I've had two people crying: my son and my baby. And I'm like, 'Oh my gosh I need to do some yoga, I need to Namaste right now,' and I literally just breathe through it.
She felt that part of the reason she struggled with going from being a parent to just Cree to having a newborn was the 7-year age gap between the two. "I waited so long," she says. "Cree is 7 and now I have a newborn, and you completely forget everything!"
And as a mother who experienced the same thing, she's not lying! You completely forget how long those nights are, how exhausting caring for an infant can be, and how at the end of the day being "touched out" is a very real feeling.
"I've had days where I've taken both of my kids out, just me by myself. I've had those moments where I've had two people crying: my son and my baby. And I'm like, 'Oh my gosh I need to do some yoga, I need to Namaste right now,' and I literally just breathe through it."
So what does Tia want to remind parents that are getting ready to welcome a second, third or even just their first baby?
"It's just forgiving yourself, going with the flow, going with the punches knowing that there are gonna be great days, there are gonna be OK days, and there are gonna be some challenging days but guess what? You can do this and you can get through."
You and those glorious boobs.