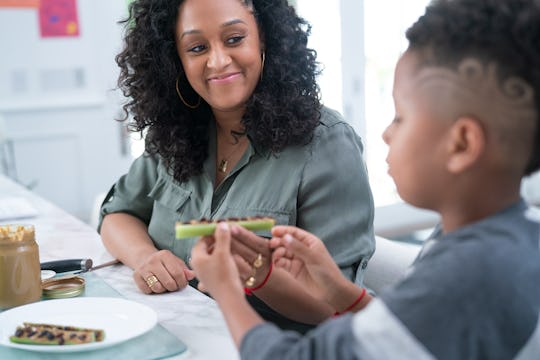 Courtesy Photo
Tia Mowry To Parents Of Kids With Peanut Allergies: Never Be Afraid To Speak Up
Having a child with a peanut allergy is not an easy thing to deal with, as the parents of at least 1.5 million children in the United States know. Of those 1.5 million children is Tia Mowry's son, Cree, who was diagnosed with the allergy at just 3 years old. In an effort to promote awareness, Tia Mowry is encouraging parents of kids with peanut allergies to speak up more. Unfortunately, according to the mother of two, many parents are afraid to be more open about their children's allergy because they think they'll be judged. In fact, Mowry claims "nearly half" the parents of those 1.5 million children living with a peanut allergy are choosing not to share their story in fear of being judged by other parents, family, friends, etc. Thankfully, Mowry is not only nipping that fear in the behind by being so open about her own story with the allergy, but also hoping other parents will take note and follow in her footsteps.
I met up with Mowry at a hotel in midtown New York in late October to chat about her son, Cree, his allergy, how she faces that challenge as a mom, and her partnership with DBV Technologies to promote awareness. When we're introduced it's hard to believe that Mowry is raising a 7-year-old and a 6-month-old, not only because of how incredible she looks but also because of how much energy she has — especially after a long day of talking about peanut allergies.
"That's kind of a challenge," Mowry tells me, referring to how parents often feel judged when they try to discuss their child's peanut allergies. "Should I say too much? Should I say too little? But my whole thing is, and this is why I'm bringing awareness to this and talking about this campaign, never be afraid to share your story. Never be afraid to say too much." This is not only a tidbit of advice that Mowry has for parents everywhere, but also her way of trying to encourage them to start a conversation with family, friends, and even the school their child attends. With an allergy as serious as a peanut allergy, there is no room for silence — judgment. You can find more information about how to "talk" peanut allergies with others by checking out TalkingPeanutAllergy.com.
That brings Mowry and I to our next topic at hand: the biggest misconception about peanut allergies. "I think a lot of people don't really realize that there are challenges that come along with a child having a peanut allergy. And it's very serious," Mowry explains. The only way to combat this misconception? Through awareness and education, which is why Mowry is so passionate about speaking up. "If we take it seriously and if we empathize with children and families that do have it, the better for the child and the better for the parent," she says, adding that "even trace amounts of peanuts can be very dangerous, so."
Other than promoting awareness with DBV Technologies, Mowry is also preparing to face yet another holiday season while doing everything she can to protect her son from his allergy. In the United States, we celebrate all of our major holidays with mass amounts of food, which can obviously be a challenge if someone in your family is living with a peanut allergy. For Mowry, combating that challenge means not only keeping Cree safe, but also making sure that he doesn't feel left out in any way, shape, or form. This means creating peanut-free snacks and food that Cree can eat throughout the holidays, including some DIY-style recipes where Mowry can get him involved in the food-making process.
"He's like, 'Mommy, this is awesome, this is cool,'" Mowry shares, looking back on previous holidays when she needed to keep Cree safe. "As long as I get him off of 'I can't have' and focus on 'I can have this,' and this is fun and this is cool and this is entertaining as well, he forgets about that for a moment." You have to admit, it's a pretty brilliant tactic — and hopefully one that other parents will be able to employ over the holiday season.
So, in an effort to spread the awareness Mowry and many other parents are so hopeful to see when it comes to peanut allergies, don't be afraid to talk about it as much as you possibly can. If your child doesn't suffer from a peanut allergy, then it's time to be more open and accepting of other children and their concerned parents. No one should feel judged for trying to keep their child safe.