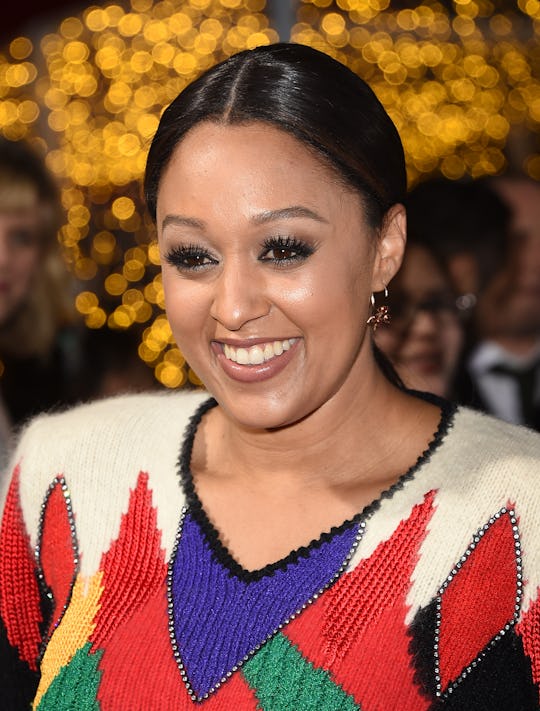 Jason Merritt/Getty Images Entertainment/Getty Images
Tia Mowry Welcomes Her 2nd Child & Shares The Sweetest Photo Announcement
Just in case you needed some good news this weekend, here's a happy baby announcement to pick you up. On Sunday, Tia Mowry welcomed her second child and shared a picture on social media. She's absolutely adorable. This is Mowry's second child with her husband, Cory Hardrict. They also have a 6-year-old son named Cree. Although the actress released a pic of her baby, she didn't share her name yet.
Mowry captioned the photo, "Feeling grateful and blessed as we welcome our little baby girl into the world!" She added that her daughter was born on May 5 at 10:29 a.m. local time and clocked in at "6 pounds and 4 Oz 19.8 inches." She added that she and her husband were "in heaven." Mowry announced her pregnancy back in November with a Instagram post, showing off her belly with both her husband and son. She released a video in January to announce that she was having a baby girl.
Although most of us millennials know Mowry from Sister, Sister, which she starred in with her twin sister, Tamera, these days she keeps busy doing a whole host of side projects. She's recently released a cookbook called a Whole New You, which focuses on healthy eating and she hosts her own web series called Quick Fix. In a recent episode, she opened up about having kids.
The star said of her pregnancy:
When I'm around my mom, she's always like, 'Tia, are you sure you're just having one?' And I'm like, 'Mom, do not put that on me, I do not want to have any twins.' I don't know why people think that just because you're a twin, you want to have twins!
Having a second child was always the plan, according to Mowry, but she had previously been unsure if she could have another because of her endometriosis. She told People in 2016, "[We're] trying, but I don't want to put too much hope into it. I don't want to be let down." Mowry credits her diet and lifestyle changes for her fertility. Her cookbook isn't just about eating healthy, it's about eating healthy to treat the inflammation caused by endometriosis.
She wrote in her cookbook that Cree was conceived thanks to some of the recipes, according to People. Mowry explained:
Given all of my health issues, I hadn't expected it to happen so fast — if at all — but after I'd been following my new regimen for just twelve months, Cory came to visit me in Atalanta, and a few weeks later, we got the happy news!
She really is super excited for her second child. She told Momtastic that she just loves being a mom. Mowry said of having children:
It's a lot more emotional than I expected. I knew it would be emotional, but I didn't know it would be this emotional. People always say you never know love until you have your own child and all of that is true.
It's not easy to juggle work and two kids, but Mowry told Vibe that she's found a decent balance. It's all about self care, she said. "The number one key is to basically prioritize. I'm a mother and wife first because family is important to me, and a part of having a balanced life is not feeling guilty about taking care of yourself," Mowry explained.
She added, "You have to take care of yourself. It's easy for us to feel guilty when we put ourselves first." With a new baby girl in the family, Mowry and her husband will likely be even busier. But it sounds like Mowry has her priorities in check. Congratulations to the whole family.
Check out Romper's new video series, Bearing The Motherload, where disagreeing parents from different sides of an issue sit down with a mediator and talk about how to support (and not judge) each other's parenting perspectives. New episodes air Mondays on Facebook.