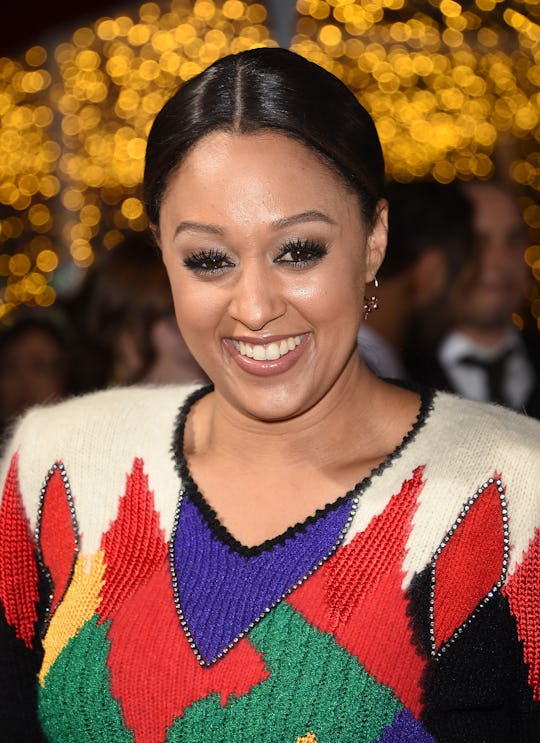 Jason Merritt/Getty Images Entertainment/Getty Images
Tia Mowry's Approach To Losing Her Baby Weight Deserves A Slow Clap
Even though women spend 10 months growing a baby within their bodies, go on to deliver the baby, and then need time to physically recover from childbirth, there's still this pressure for us to "get our bodies back" ASAP. Never mind that it took nearly a year for our bodies to change in order for that baby to be possible. Or that our abdominal muscles were literally stretched to their limit. Or that we're probably sleep-deprived and mentally exhausted from the around-the-clock care an infant requires. Nope. Somehow, we're still expected to hit the gym and lose that baby weight in a matter a of weeks, which is just not practical. That's why Tia Mowry's approach to losing her baby weight deserves a standing ovation.
During a recent interview with E! News at the Bumble BFF and The Tot's Back to School Block Party, the mom of two opened up about the fact that she's in no rush to drop the baby weight. "It's going great. For me, it's not about being vain. You know what I mean? It's not about trying to look great; it's about trying to feel great," Mowry said. "And if that takes five to six months to a year to feel like myself, then so be it. It's not about trying to hurry up and get into the gym and get that six-pack. It's kind of like how it was with my first child. I'm just taking everything as it goes." She continued:
If I lose 5 lbs. here, then great. If I don't? Oh, well. I'm just really taking my time, and I really want to be an example out there for women, that it's OK if you don't lose weight fast or rather quickly. It's OK if you still have a belly bump. That's what happens. It's natural. It's normal. You don't have to kill yourself trying to get to some place that takes time. I'm about focusing on my babies and enjoying her growth.
Yass, girl!
Because after birthing a human, a mom's body needs time heal. Fun fact: It takes about four weeks just for the uterus to contract back to its pre-pregnancy size, according to BabyCenter. Plus, a new mom might still be experiencing postpartum bleeding even after this. Not to mention, certain pregnancy hormones linger in the body up to four months after a woman stops breastfeeding — which reduces stability in a woman's pelvis and joints, and causes her body to reserve fat stores, which are crucial for hormone and milk production, according to HuffPost. And don't even get me started on how the abdominal muscles and pelvic floor can often be affected for years after childbirth.
As Us Weekly reported, Mowry gave birth to her second child with husband Cory Hardrict — a baby girl they named Cairo — on May 6. Mowry and Hardrict were already parents to a son named Cree, who was born in 2011. "'Feeling grateful and blessed as we welcome our little baby girl into the world!' Born May 5th at 10:29 am at 6 pounds and 4 Oz 19.8 inches We are in heaven," the proud mom wrote on Instagram, along with a photo of herself holding her daughter in the hospital.
If my math is correct, that means baby Cairo will be 4 months old at the beginning of September. So yeah, Tia Mowry definitely has the right mentality at this point in her journey with pregnancy weight loss. Now if only society as a whole would get on board so moms can focus on what's most important during the trying postpartum period: Her overall well-being and her baby.