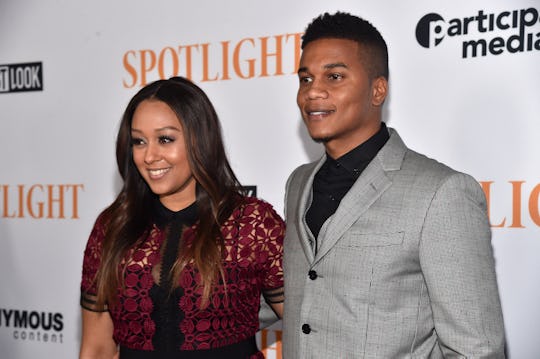 Alberto E. Rodriguez/Getty Images Entertainment/Getty Images
Tia Mowry's Adorable New Photo Of Baby Cairo Will Have You Convinced She's Her Dad's Twin
There's no doubt about it: Tia Mowry and Cory Hardrict definitely have one cute family. Recently, and just short of eight weeks after giving birth, the couple has shared their new daughter's name and a slew of full face photos with the world. And Tia Mowry's new photo of Cory Hardrict snuggling baby Cairo will absolutely make your heart melt.
The couple currently only has one other child together, Cree Taylor Hardrict, born on June 28, 2011. Their baby daughter was born on May 5 of this year. In the past, Mowry has openly discussed the age gap between her children and her struggles with infertility. According to People, Mowry said, "I didn't think I'd be able to have a second child, and it's been over seven years since my first pregnancy. I put it off, but I did want to have another child."
So being able to witness her pregnancy journey this time around and see how the whole family is adjusting to life with a newborn has been such a treat for fans. And when Mowry shared a truly aww-worthy photo of Hardrict cuddling with baby Cairo on Saturday, it was yet another sweet look inside their adorable and loving life at home. I mean, look how sweet these two are. And Mowry's caption on the photo really says it all: "Heart exploding... 💕"
You might have noticed yourself, but some fans immediately noted that Cairo's resemblance to her father is striking, with one fan commenting, "Omg she is his twin!!!!!!"
Another chimed in, "Looks just like her daddy...." One more wrote, "I love this picture. They are twins!"
"Twinsies, she is so adorable!!" yet one more commented.
These comments are as heartwarming as the photo itself it, but it's also nice to see fans respecting how the couple has released pictures and their daughter's name on their own time. Privacy is something celebrities struggle to hold onto, especially when it comes to their children, so it's refreshing to see Mowry's fans respect hers and not push for more details about her baby girl than they're comfortable sharing at the moment. Plus, this photo of this adorable father-daughter moment was well worth the wait, right?
Mowry announced her daughter's full name in a recent Facebook video: Cairo Tiahna Hardrict. In the video, while holding her daughter, Mowry broke down the meaning behind her daughter's name; Cairo basically means victorious and Tiahna (spelled differently to include "Tia") means follower of Christ, in addition to being a reference to an African princess. Mowry went on to explain in the video that her husband, while flying, saw the letters A, I, and R in the air. As Mowry noted in the video, her husband feels close to his mother while flying, and knew that his daughter's name needed to have those letters.
The couple clearly put a lot of thought into their daughter's name, but it's no surprise. As some people might have noticed by now, both Cree and Cairo's initials are C.T.H. And that was no accident; in fact, that was the only hint about possible baby names that the couple really ever gave. "I'll give you the initial: It's a C," Hardrict once told People about their daughter's name, with Mowry chiming in, "And the middle name will be a T for my name, Tia. So it's C.T.H."
Though she's not sharing new updates about baby Cairo every single day (because, well... she is a new mom, after all), Mowry has given her fans a number of looks at what life is like with her adorable baby girl at home. And until the next photo or update comes, there are plenty of cute pictures and videos to gush over. Mowry and Hardrict are both clearly ecstatic to have baby Cairo around. That energy, and love, are both absolutely tangible in everything they share about their new daughter.