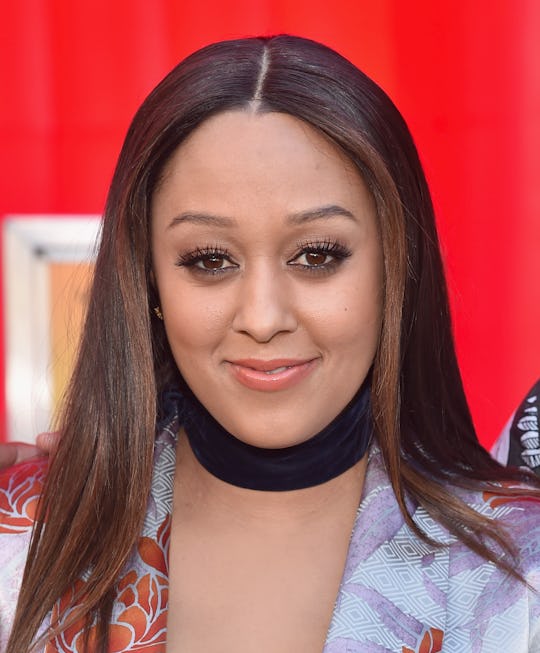 Alberto E. Rodriguez/Getty Images Entertainment/Getty Images
Moms Are Loving Tia Mowry's Transparency About This Post-Pregnancy Health Struggle
Tia Mowry welcomed her second child this past May and even before then, she's opened up about the challenging aspects of pregnancy and motherhood on social media on multiple occasions. In a new Instagram post, she shared yet another struggle she faced during her most recent pregnancy: gestational diabetes. Tia Mowry's transparency about coping with gestational diabetes is super important — and moms on the internet feel the same way.
On Tuesday, Mowry posted a video to Instagram of herself working out with a trainer. "After being diagnosed with #gestationaldiabetes, I was lost for words. Never ever did I think, THIS could happen to me," Mowry captioned the exercise montage. "Most of the time, doctors say it will go away after birth, however, it does put you at a higher risk for diabetes later in life. Time to get back on track. Making healthy choices and moving."
Gestational diabetes is a form of diabetes that some people develop during pregnancy (which is also known as gestation), according to the Centers for Disease Control and Protection (CDC). The condition affects 2 to 10 percent of pregnancies in the United States each year, and it happens when the body cannot produce enough insulin (a hormone that allows blood sugar into your body to use as energy) during pregnancy, according to the CDC.
According to the CDC, gestational diabetes will go away after giving birth for about 50 percent of those affected by it. Unfortunately, that means the other 50 percent of people who develop gestational diabetes while pregnant could eventually develop type 2 diabetes. And about 67 percent of those who experience gestational diabetes during pregnancy will develop it again during future pregnancies, according to the American Diabetes Association.
The CDC recommends talking with your physician about preventative measures and according to the American Diabetes Association, ways to prevent gestational diabetes include: losing weight if you are overweight; eating healthy; staying active; breastfeeding, if possible; consulting with your doctor; and getting tested for diabetes regularly after giving birth.
That being said, it makes sense that Mowry has committed to "making healthy choices and moving," as she shared on Instagram. Mowry and her husband, actor Cory Hardrict, are parents to a son, Cree, 7, and a daughter, Cairo, 2 months, according to People. Based on Mowry's post, it seems like she only had gestational diabetes while carrying Cairo, and not while carrying Cree, but it's unclear.
Many fellow moms who also developed gestational diabetes responded to Mowry's post. "Exactly how I felt with gestational diabetes diagnosis! ME?! Still working on the tome to get back on track though! 🤦🏽‍♀️," one fan commented on Instagram. "I had gestational diabetes it went away but came back because I didn't keep my weight in check. Continue to work out and eat healthy and it want be a problem," another fan chimed in.
Another fan added, "I enjoy your post and I can honestly relate to this because I my self was diagnosed with #gestationaldiabetes with my four month baby girl who I love so dear." They continued, "I never thought it would happen to me. But it did. But I do watch what I eat and like you said we are at high risk in getting it later in life. I want to stay healthy n strong for my kids 💪💯."
Dealing with new exercise regimens or diets on top of everything else that comes during the postpartum period is certainly no easy adjustment, and it's clear that Mowry's dedication to this new lifestyle is inspiring fellow moms who have had similar struggles. And not only that, but Mowry's post also helps fight the stigma surrounding openly discussing pregnancy complications.