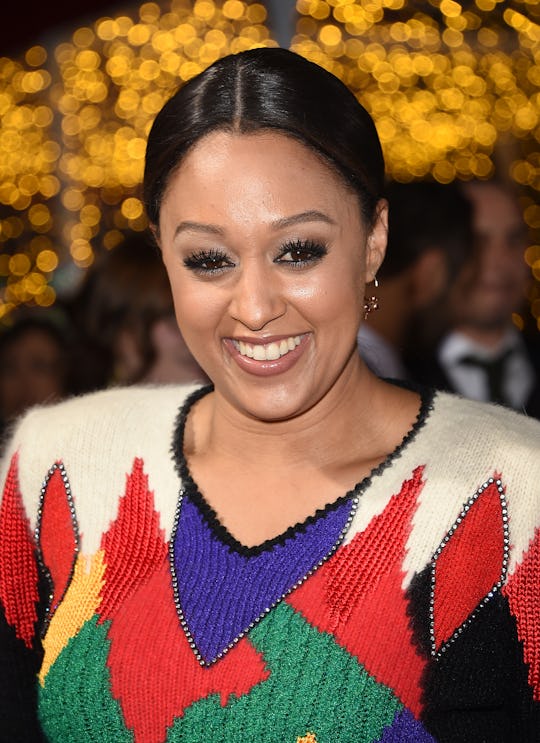 Jason Merritt/Getty Images Entertainment/Getty Images
Tia Mowry's "Woke Up Like This" Photo Perfectly Depicts Life With A Newborn
If there was a competition for "Queen of Adorable Family Photos" and "Realest Celeb Mom," Tia Mowry would definitely be in the running. With the arrival of new baby Cairo, her Instagram page has gotten an extra layer of adorable and an extra dose of realness. And her newest image is no exception. In fact, Tia Mowry's "woke up like this" photo shared this weekend is so cute, obviously, but it also perfectly depicts life with a newborn.
Mowry and her husband, Cory Hardrict, currently have two children together: Cree Taylor Hardrict, born on June 28, 2011, and their new daughter Cairo Tiahna Hardrict, born on May 5 of this year. The former Sister, Sister actress has openly talked about her role as a mother on many occasions and the emotions that brings. For instance, after giving birth to her first child, Cree, Mowry told Momtastic, "It's a lot more emotional than I expected. I knew it would be emotional, but I didn't know it would be this emotional. People always say you never know true love until you have your own child and all of that is true."
Mowry's honest take on motherhood and love for her children really shines through in all the fun family photos that they take together. Recently, Mowry uploaded the newest photo to Instagram perfectly captioned, "We woke up like this! Milk 👍🏽Coffee 👍🏽Baby 👍🏽."
In the photo, Mowry and her son, Cree, both pose in their pajamas. Mowry is holding baby Cairo on her hip, with a pacifier in her mouth while Cree holds onto the aforementioned coffee and milk, giving the camera his best stare-down. Fans couldn't get enough of how real their morning looked.
"The baby the only one smiling ummm I love the reality of this!!!!" one fan commented. Another added, "Wow.. i love this pic !!! This is just plain reality..."
Another fan commented on how baby Cairo seemed to be side-eyeing her mom just a little bit, saying, "Well at least she looks happy😂 seems a little confused as to y u have her binky tho😂😂😂 love this pic and you guys too!"
What makes this picture even more adorable is seeing how Mowry brings her son, Cree, into the fun baby photos. There is over a six year age gap between Cree and Cairo. As many parents can attest, sometimes, older siblings may have a tough time adjusting to life with a new baby and perhaps feel like they're hogging all their parent's attention. And those feelings don't necessarily disappear with large age gaps. So as Mowry continues to post photos of her family, it's nice to see all the ways in which Cree is included in celebrating his new baby sister. And it's something that fans are picking up on as well.
Beneath another photo of Mowry and her two kids, one fan commented, "Beautiful baby girl, handsome boy!! Lovely family." Another wrote, "Beautiful family😍." One more chimed in, "Both gorgeous kiddos and a gorgeous mommy!"
On June 28, Mowry uploaded another photo of herself, Cree, and Cairo captioned, "Happy Birthday my love! Let the festivities begin! 🙌🏽🎪🎩🎉🎊 #7yrsold#cree".
It's an adorable photo of the whole family dressed up, ready to celebrate the newly 7-year-old's birthday and yet another illustration of how Mowry celebrates both of her beautiful kids.
As summer continues to progress, fans can definitely look forward to more pictures of this adorable family. It'll be exciting to watch as baby Cairo continues to grow and to continue seeing the brother-sister bond really develop. And of course, savor all of Mowry's real and honest looks at motherhood. Coffee, PJs, and all.