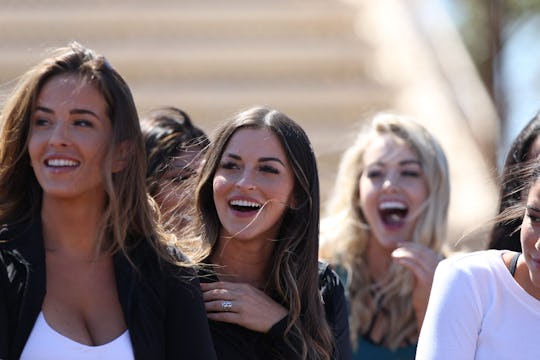 Paul Hebert/ABC
Tia Confessed Something Big To Arie On 'The Bachelor' & Fans Had Mixed Emotions
Well, it was bound to happen sooner rather than later: the first contestant dropped the "I'm falling in love with you" card, and it was Tia Booth. Tia revealed she's falling in love with Arie on The Bachelor and fans... were pretty mixed about it. This was the pair's first one-on-one date, so for Tia to say this may seem really hasty, but remember that this is The Bachelor: the entire concept is that two people get engaged after knowing each other for maybe eight weeks. Tia must be really feeling Arie to drop the "L" word so soon though — and fans couldn't stop talking about it.
I'll back up for those who need a run down: who is Tia? This is her first rodeo on the Bachelor franchise, but Tia's close friends with Raven Gates, who was last year's runner-up. Both women are from Arkansas, and I'm sure Raven gave her BFF some tips on competing on the show. While Raven didn't win when she was on The Bachelor, she did find love thanks to Chris Harrison (and the producers and ABC): Raven is engaged to Adam Gottschalk after meeting on Bachelor in Paradise after their respective seasons, so it ended up working out for her!
I can tell that Tia wants that same love story from how she acted on her one-on-one date with Arie. The two went on a swamp adventure (after he and Chelsea went on a luxury yacht earlier in the episode... tough break) and had dinner afterwards where she dropped the "L" word. Once she did, Bachelor Nation on Twitter had thoughts, to say the least:
After Tia said she's falling in love with Arie, he simply... kissed her. This is typical of how leads react to the word "love," at least at this point in the competition: they don't really react, and they certainly don't say it back. That would mean that they would say they loved a ton of the competitors despite letting them go later on. Trust me, Tia won't be the last one to say she loves Arie, so he can't throw the word around willy-nilly.
There were a lot of different reactions to Tia on the group date. Some, which I agree with, think she's too good for Arie. Not only is she an awesome, fun person, but homegirl has her doctorate. As a Twitter user BachBatch pointed out, Tia is a doctor and another contestant, Seinne, went to Yale... what are these women doing on The Bachelor!? Some viewers believe that Tia can do better. Others think she's jumping the gun by saying she's falling in love, which I also agree with. Girl, this is your first date. I know "love at first sight" is supposedly a thing, but this is a little much.
Regardless, Tia said what she said and Arie gave her the solo date rose. At this point, there are a little over 10 women left so there's a ways to go in the season. Could Tia end up like her BFF Raven and make it to the finale? Will she, also like Raven, end up the runner-up? There's no way of knowing yet, but she is the first to say that she loved him, which is huge. She's already come a long way since her bad "little wiener" joke in the premiere, so I'm excited to see just how far Tia ends up going in the competition. For now, I'll be looking for some deep fried corn on the cob she ate on their date.
Check out Romper's new video series, Romper's Doula Diaries:
Watch full episodes of Romper's Doula Diaries on Facebook Watch.