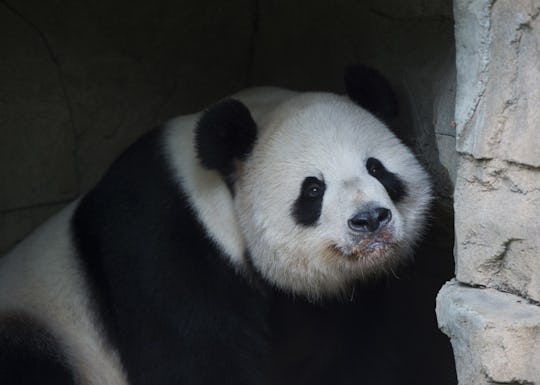 Molly Riley/Getty
Tian Tian The Panda Frolicking In The Snow At National Zoo — VIDEO
Even though our nation's capital is practically shut down because of Winter Storm Jonas, at least one D.C. resident is having an amazing time in the snow: The National Zoo video of Tian Tian playing in the snow is probably the cutest thing of all during this monster of a snowstorm. Tian Tian is an adult male panda, one of four giant pandas at the National Zoo. According to the National Zoo, the 264-pound giant panda "woke up this morning to a lot of snow, and he was pretty excited about it," according to their Instagram and Twitter accounts on Saturday. They're not kidding when they say "a lot of snow" either, as the snowfall totals at the National Zoo were reported at just over 16 inches just after 1 p.m.
The adorable video shows Tian Tian having what looks to be the most incredible time in the mountains of snow. Thankfully the National Zoo shared this precious moment with the world, given that the zoo is closed today due to the blizzard. Tian Tian rolls down a snow-covered hill, eats a big paw-ful of snow, then rolls around in the fluffy white stuff.
Behold: The squee is strong with this one.
Meanwhile, Tian Tian's son Bei Bei was not a fan of the snow this morning. The 5-month old male panda cub only recently made his public debut at the National Zoo on Jan. 16. On Thursday, zookeepers allowed the little cub to explore some snow powder in a behind-the-scenes enclosure away from the public — but Bei Bei just wasn't having it. Looks like fellow pandas Mei Xiang, an adult female and Bao Bao, a juvenile female, are keeping indoors while it snows. The National Zoo tweeted on Friday that only essential staff are on hand to take care of the animals during the blizzard, while the zoo remains closed.
But don't fret if you can't see the pandas in person once D.C. begins the big dig-out after this snowstorm's end: You can still get your panda fix anytime, any day by watching the 24/7 Giant Panda Cam at the National Zoo.
Images: Molly Riley/Getty; National Zoo/Instagram