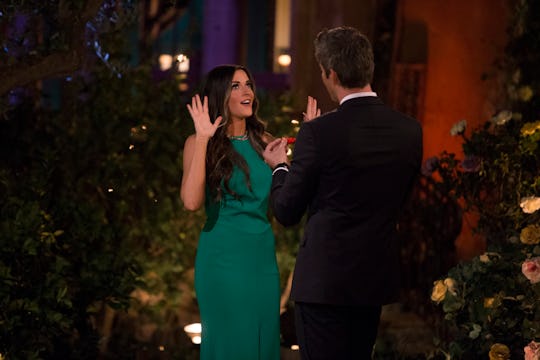 Paul Hebert/ABC
'Bachelor' Fans Had Some Fun With Tia's Little Weiner Joke
Hey, quick question. Do you guys miss Raven Gates from Nick Viall's season of The Bachelor? If so, I have some excellent news for you. Her friend Tia Booth has arrived to literally take her place. And she brought jokes. Jokes that we're all a little, well, confused about. I'm talking about Tia's "little wiener" joke on The Bachelor that has Twitter feeling super awkward. It's not that it was a bad joke or really a crass joke or even necessarily an intentional joke at all. It was just sort of, well it was a little odd.
As everyone who watches The Bachelor or The Bachelorette knows, it's important to make a good first impression when you first walk out of that limo. That's why three different women opened with something to do with cars. One arrived in a vintage beauty, one brought along two toy race cars, and one arrived in a literal Indy car. Tia, who is from Arkansas, brought a toy Oscar Mayer wiener whistle, because her hometown is literally called Weiner. "Please tell me you don't already have a little wiener," she says to him as she hands him the trinket. Um, ba dum dum? Was this intentional? Inquiring Twitter minds want to know.
Some people were all about the wiener joke.
Clearly, if Tia was trying to be funny, this would be a penis joke. Hardy har, little wiener, little penis, please don't have a little penis. I'm not a huge fan of little penis jokes, personally. They just seem a little, ahem, gauche. If this was a joke about your potential soul-mate's genitals, it seems a little early, ya know what I mean?
That said, I'm not entirely sure that Tia even intended for it to come off that way. It is entirely possible that she was just joking that he might already have an Oscar Mayer wiener whistle, which is far more PG and way cuter than the other possibility. If it came out as a small wiener joke accidentally well, let she among us who has not inadvertently said something dirty cast the first wiener whistle. For what it's worth, it doesn't appear that Arie took great offense to the toy or the joke. Some Twitter users wondered if he even understood the joke, for that matter.
However not everybody was a fan of Tia's wiener humor. Some Twitter users simply didn't think the joke was that funny, or even a little boring. Others seemed to think that "Wiener Girl" was about to get tiresome.
Tia didn't get a ton of screen time in the first episode. She wasn't a major part of any of the drama amongst the women, but she did make an impression with her possible-penis joke. That Arie may or may not have actually understood. Well, she did admit that some of the women seemed to be trying a little too hard. Cut to a woman named Amber explaining that working at a tanning salon she sees a lot of d*cks, and hopes that he's not one. Which means that Tia wasn't even the only candidate to make a penis joke in the episode.
As was revealed in her introductory video package, Tia and Bachelor all-star Raven Gates are actually good friends. She's got a cute accent, and a winning sense of self-deprecating humor. She is for sure going to be present for a lot more drama and romance to come. And I, for one, have decided that I am not at all mad about it.
Check out Romper's new video series, Romper's Doula Diaries:
Watch full episodes of Romper's Doula Diaries on Facebook Watch.