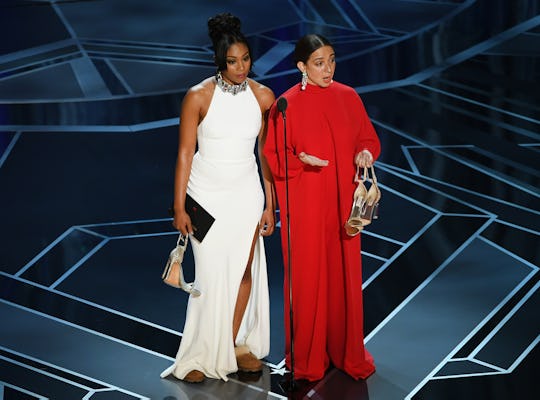 Kevin Winter/Getty Images Entertainment/Getty Images
Tiffany Haddish Wore Uggs At The Oscars, Proving She Could Not Be More Relatable
Tiffany Haddish has blown up over the past year with a starring role in the film, Girl's Trip, and hosting Saturday Night Live. However, even though she's a star on the rise she continues to prove that she's down to earth. This was especially evident when Haddish wore Uggs at the Oscars, proving, once again, that she couldn't be more relatable.
To be clear, Haddish didn't begin the night wearing Uggs. In fact, when she was walked the red carpet she was all glammed up in an Eritrean gown that she wore in honor of her late father. She revealed to ABC that the her father passed away last year and that "he said one day I would end up here and if I ever ended up at the Oscars to honor my people so I'm honoring my fellow Eritreans."
However, after paying her respects to her father and her people, the comedy star went for a different look when she hit the stage as a presenter alongside Maya Rudolph. The two women stepped out with their heels in their hands, revealing the struggle they'd endured wearing them. While Haddish had only been wearing her heels since 11 a.m. that morning, Rudolph claimed she'd been wearing hers since the Critics Choice Awards.
Since she was carrying her heels, on her feet Haddish was wearing Ugg slippers that many of us are quite familiar. They're those easy comfy shoes that you can just slip on, typically when you're just moving about the house or going on a quick trip outside or around the neighborhood. They're the epitome of casual shoes and to see Haddish rocking them on the Oscar stage really made it feel like she's just like us.
In addition to the Uggs, Haddish also switched out her traditional Eritrean gown for her now very familiar white Alexander McQueen gown. Unlike many celebs who only wear something once and are then never seen in it again, Haddish has now worn this dress at least three times.
First she wore on the carpet for the premiere of Girls Trip in July 2017, then she wore it again when she hosted SNL in November. It was during her hosting gig that she discussed why she continues to wear the dress again and again, even if people think it's "taboo."
"I spent a lot of money on this dress!" she said, during her monologue. "This dress cost way more than my mortgage ... this is an Alexander McQueen, okay? It's a $4,000 dress. I'm [going to] wear this dress multiple times! Real talk. You might see this dress in two sketches tonight, okay?"
Not only did the dress sneak its way into sketches, it also made its way to the Oscars tonight, and I'm so happy it did. Not only does it prove that Haddish means what she says, it's also so great to see a celeb who actually isn't afraid to make good use out of a great dress.
Besides her incredible down to Earth look, Haddish was also her incredible hilarious self onstage. Not only did she clearly have a fun time with Ruldolph, she also took the time to pretty much ask Meryl Streep, who of course was sitting front row, if she could be her "mama" one day. Streep seemed to agree, and honestly, I'd love to see how that movie would play out. We'll probably have to wait a bit to actual see that come to fruition, but I applaud Haddish for taking her shot.
Obviously, this is only just the beginning for Haddish and I can only hope as she continues to grow in this industry she remains just as funny and relatable as she is now.
Check out Romper's new video series, Romper's Doula Diaries:
Watch full episodes of Romper's Doula Diaries on Facebook Watch.