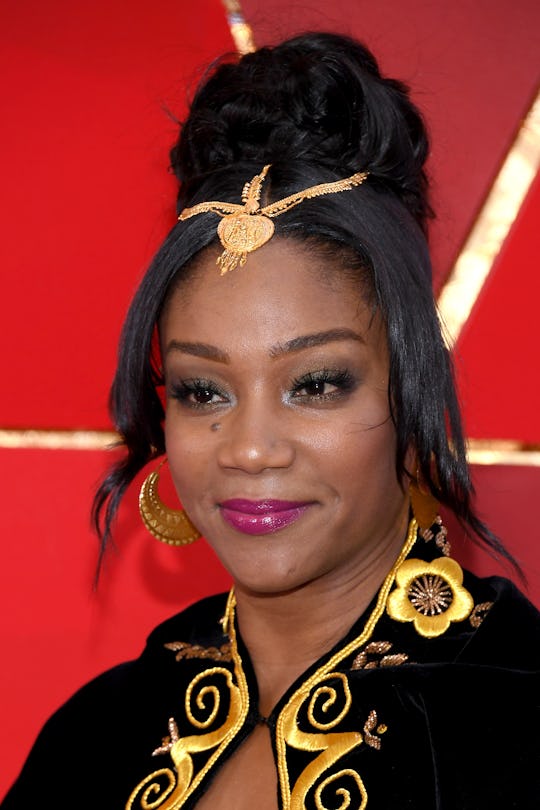 Kevork Djansezian/Getty Images Entertainment/Getty Images
Tiffany Haddish's Oscars Look Has An Important Message Behind It, & It's So Sweet
If there's one celebrity out there that nearly everyone can get behind to support, it's Tiffany Haddish. The Girls Trip star has won over basically all of America with her humor, and now with her clothes. Yes, Tiffany Haddish's Oscars look has an important message behind it, and it probably isn't what you think.
Haddish, who is a first-time attendee at the 90th Academy Awards, wore an intricate outfit on the red carpet, and of course she was asked about it. "My father is from Eritrea," she began, "he passed away last year and he said one day I would end up here," Haddish explained, gesturing to the red carpet and A-listers surrounding her. "And if I ever end up at the Oscars to honor my people, so I'm honoring my fellow Eritreans." Then, Haddish, glowing and as charming as ever, showed off her fabulous garb.
While so much of the focus on what celebrities wear to events and award shows is pretty sexist, it also gives those walking the red carpet the chance to speak out and speak up. Beginning with the Golden Globes, the 2018 award show season has had plenty of opportunities for celebs to stand up for something more, such as the #TimesUp movement, or honoring their late father's home country, like Haddish did.
Haddish is never one to shy away from being herself and shining in the spotlight. She is funny, relatable, and talented as can be. Her role in Girl's Trip was equal parts relatable, hilarious, and inspiring at moments. And who could forget her gleeful reaction to meeting Oprah, finally? Haddish is beloved, and her tribute to her dad, and her dad's home country on Sunday night was purely magical.
Of course, Haddish didn't always have the best relationship with her father. On an episode of Hollywood Medium, Haddish told Tyler Henry that her dad had been in and out of my life. According to MadameNoir.com, Haddish said back in April of 2017 that she tried reaching back out to him. "I offered to like let him come stay with me and let him come stay with me and then he disappeared again. Now he reappeared and he says he wants to come stay with me now. And there's a part of me that's like, well, you've kind of missed that boat." Unfortunately, now that Haddish's dad has passed, it seems as though she wants to honor him and his heritage.
And even though Haddish's stylist wanted her to wear a more upscale designer dress, she's known for a while that she wanted to represent Eritrea at this year's event. "My stylist wants me to wear this hand-crafted designer dress," she explained to The Hollywood Reporter. "Now, my father died last year, and before he died he said, 'Always make sure you represent your people.'" She went on, "Now, I don't want to be disrespectful to the event, but it's a pretty dress. I ain't got my titties out, my bootie ain't out. It ain't see through. It's elegant. So why not?"
And wear it she did. Haddish looked amazing in her Eritrean dress, and I'm not the only one who thinks so. Seriously, Twitter is abuzz with compliments for the 38-year-old actress and her gorgeous attire.
Seriously, basically all of the internet loved her look, and why wouldn't they? Haddish was fierce Sunday night, and the fact that her look also had a super important meaning behind it? Well, that just makes all the more adorable. Seriously, Haddish is already totally lovable, and the fact that she shed an expensive, designer label for a dress from her deceased father's home country just makes her all the more so.