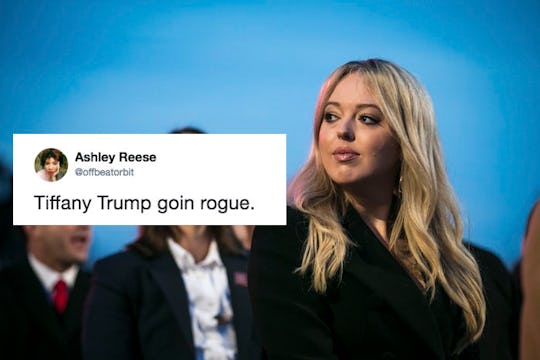 Pool/Getty Images News/Getty Images
Tiffany Trump Liked This March For Our Lives Instagram Post & Twitter Has Thoughts
This weekend, scores of students and supporters all across the nation took to the streets to make their voices heard about gun violence, especially in schools. The March For Our Lives was started by students who survived the Marjory Stoneman Douglas High School shooting last month with the intent of changing the law and narrative on gun violence for good. While President Donald Trump did not personally address this march or the actions of students and activists on Saturday, his daughter Tiffany Trump reportedly liked a March For Our Lives post on Instagram, according to People, and Twitter was understandably shocked that she publicly supported an anti-gun violence movement that veers away from her father's political alliance. Romper's request for comment from Tiffany Trump as well as the White House were not immediately returned.
Instagram feeds were flooded with posts from friends, celebrities, and everyone in between who attended the marches all across the world on Saturday — including Trump's Instagram feed. Over on the 'Gram, the 24-year-old Georgetown Law student liked a photo posted by Instagram user, Julia Moshy, that was all about the March For Our Lives. As of publication, the like still existed on the photo.
In the photo series, Moshy held up a sign with the words, "It's not left or right, it's life or death" and posted photos of other signs with messages stating, "Next massacre will be the GOP in the midterm elections." It's safe to say that these messages aren't necessarily ones that are reflective of President Trump's administration. Since that shooting in February took place, the POTUS has stated that he wants to strengthen the background checks required to purchase a gun and stop the purchasing of bump stocks, according to TIME, and both ideas are pretty much supported by both parties. But at the same time, he has supported arming teachers in schools, according to TIME, and the slow moving actions of his administration when it comes to enforcing safer gun legislation shows that change isn't going to happen immediately.
So, when people found out that the president's daughter had liked this Instagram post, that included an anti-GOP sign, they quickly took note.
Twitter users were indeed curious why Trump would like this photo and if this means that she herself holds different views from her father and the presidential administration.
At first, it took people a little while to realize what they were seeing.
But once the shock set in, they were pretty happy with the fact that Trump had liked the photo, speculating as to what the "like" could have meant.
People wondered if they had been underestimating her this entire time.
But just because Trump liked the post on Instagram doesn't mean that she supports the post's message. Julia Moshy is a friend of Trump's, as Zimbio noted. Moshy was even in attendance for Trump's birthday party when she turned 24 years old in October, according to Guest of a Guest. Plenty of friends can support one another when they do things without agreeing with the message of their actions (think of how many times you continued to support your friend in their relationship, even though you hated their boyfriend at the time). So the fact that Trump liked her friend's post can and should be taken at face value unless she says otherwise — sometimes you're just scrolling through Instagram and you like certain posts. That's it.
But on the other hand, it could mean more like people on Twitter are speculating. Trump chooses to live her life out of the private eye for the most part and maintain a level of privacy so her political leanings aren't exactly clear. But while giving a speech at the 2016 Republican National Convention, Trump was vocal in supporting her dad. "[My father's] desire for excellence is contagious," Trump said during the speech, according to Teen Vogue. "He possesses a unique skill in bringing that trait out in others."
But this speech doesn't mean that Trump agrees with her father's view points or political beliefs. While studies have shown that parents have a huge influence over political beliefs, that influence does not last, according to The Cut. Instead of parents, other factors like your friends, the leanings of your environment, and your spouse also contribute to the way you vote or feel about politics. Because of this, who is to say that Trump can't support the March For Our Lives movement or agree with her friends who participated in the march?
While Trump might have liked something about the March For Our Lives that included an anti-GOP sign, the president stayed silent about the matters over the weekend, according to The Cut — choosing to go golfing in Florida instead of staying in the nation's capital. Instead, the White House released a statement about the march, applauding the students for "exercising their first amendment rights," according to HuffPost.
But the student organizers of the March For Our Lives and survivors of the Stoneman Douglas school shooting have definitely expressed their distaste for the president. During an appearance on Real Time With Bill Maher, according to The Hill, organizers Cameron Kasky and David Hogg said that they would continue to push for an end to gun violence. "President Trump needs to listen to the screams of the children," Hogg said, according to The Hill.
Until she flat out says something, people will never know if Trump liked that Instagram post because she supports the movement and agrees with any of the posters in the post or if she was simply giving her friend a "like" on that Instagram photo. Whatever it might mean, Twitter users seemed to be pleasantly surprised by it.
Check out Romper's new video series, Romper's Doula Diaries:
Watch full episodes of Romper's Doula Diaries on Facebook Watch.