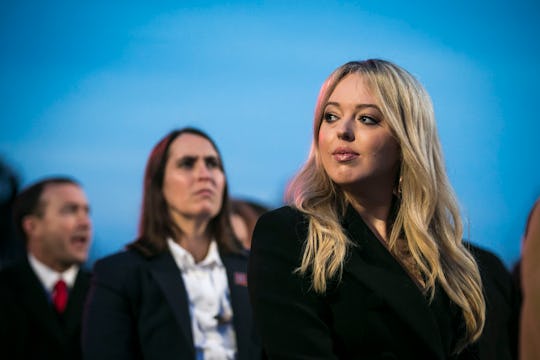 Pool/Getty Images News/Getty Images
Tiffany Trump Is Rumored To Be Dating Exactly Who You Would Expect Her To Date
While you were busy grilling burgers and lighting sparklers in the comfort of your own hometown on Independence Day, something very important was happening over in the Hamptons. Tiffany Trump might be dating Chris Allam, a "businessman" from New York, you guys. They were spotted partying together on July 4, and sailing together a week prior, which is basically the same as getting engaged in the land of the rich and famous. Why is this important? Oh, I don't know, why don't you ask Jared Kushner, another young go-getter from the tri-state area? Just like Allam, his resume contains little more than "started a company," and now he's a senior advisor to the President of the United States (who also has a similar pedigree, of course). I'm sensing a pattern here.
According to Page Six, the pair were celebrating at the home of Tinamarie Clark and David Rosenberg, a socialite couple known for their epic parties and not much else. Clark is described as a "model and life coach," and the most revealing things about her on the internet are an old baby registry and her bio on heymama.co, which appears to be an ultra-exclusive version of BabyCenter that promises access to rich and powerful working moms for the low, low price of $350 per year. I honestly can't believe it wasn't founded by Ivanka Trump, actually. That bio, if your curious, lists her "Personal Passions, Charities, [and] Hobbies" as "Pilates, meditation, vintage jewelry shopping, and yard sales."
Page Six got a hilariously uninformative quote from an anonymous party guest, who reported, "There was Secret Service and a lot of security at the house, so they had to be there for someone important. I had way too much to drink so I didn't recognize anyone." Love it. But another source claimed it was the second first daughter, who spent the day posting Instagram Stories of the festivities, which began on a party bus full of the kind of people who look like they laugh when they see a waiter drop a tray, and call everyone "bro" or "guy." The main event, which was co-hosted by nightclub owner Richie Akiva, boasted "private fireworks" and an ice cream truck. I would love to know how they kept the uninvited from looking at them, but that wasn't covered.
The Daily Mail got some more dirt on the event, the guests, and a nice roundup of everybody's Insta Stories, in case you want to raise your blood pressure for some reason. Allam attended Darien High School in Connecticut, the paper reported, then Hobart College. His first business venture was a summer apparel line (think Vineyard Vines but more Hamptons-y) that he started with a bunch of his buddies while still in college. It was called Pelican Breeze. It failed.
After not becoming the next Tommy Bahama, Allam worked as an assistant at a real estate company, and he now works for the nightclub management firm Tao Group in an unknown capacity. Company founders Noah Tepperberg and Jason Strauss were also reportedly in attendance, which begs the question, what is the minimum amount of nightclub executives one must invite to a Hamptons party? And also, what was the cologne situation like? I'm thinking it was way harsh.
But back to Allam. He seems to fit right in with Tiffany's crew, alternatively referred to as the Snap Pack or the Rich Kids of Instagram. She may have scaled back on her inflatable swan game since she started attending law school (yes, really), but she's still the same old Tiffany, living her best life with her father's money, while keeping herself and her associates blessedly far away from the White House. At least for now.