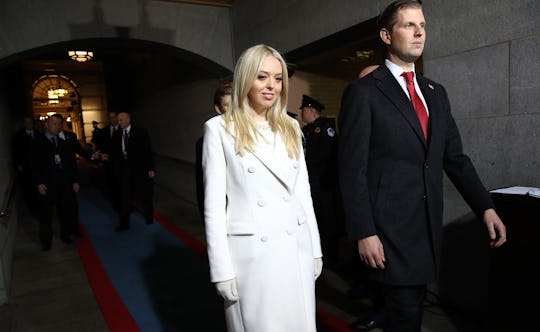 Win McNamee/Getty Images News/Getty Images
Tiffany Trump Will Attend Georgetown Law
Tiffany Trump, President Donald Trump's youngest daughter, made headlines on Monday thanks to a reveal about her future plans. The rumors are true — Tiffany Trump will attend Georgetown Law School in the fall. That makes her the latest member of the Trump family to move to Washington, D.C., where she'll be living mere miles away from her father and older sister, Ivanka. The Daily Mail was the first to announce Trump's law school plans, while a representative for the family confirmed the news.
Although many members of her family are regular staples in the news, 23-year-old Trump has largely stayed out of the spotlight, aside from a speech she gave about her father at the Republican National Convention. Some had been wondering what path the more elusive Trump would take after graduating last spring from the University of Pennsylvania with a degree in sociology and a concentration in law. Would Trump make like some of her famous half-siblings, and go to business school? Maybe, given her attendance at Fashion Week, and a previous internship at Vogue, she'd choose to go into the fashion world. Or perhaps she'd return to the lure of pop music, and release a companion piece to her previous single, "Like a Bird" (in which she expressed a desire for "serenity while living it up").
None of the above, it turns out. Trump will pursue her serenity at law school in the nation's capital. She had previously teased her ambitions last fall on Instagram, posting a photo of a bunch of LSAT prep books and an "I got this" bitmoji. Apparently, she did indeed have it, and studied hard enough to land a spot at Georgetown, which is ranked at number 15 on the U.S. News and World Report's annual rankings of the best law schools in the country. She won't be the first Trump to attend the university. Her older brother Eric got his bachelor's there, while Ivanka attended for two years before transferring to University of Pennsylvania.
So, come autumn, Trump will be joining her father and sister in Washington D.C. The proximity will mark a change for Trump, who was raised by her mother, Marla Maples, in California, across the country from her famous father and her half-siblings.
Perhaps, when she needs a study break, she'll walk the mile and a half to the White House and see what her father is up to that day, or offer up some legal advice.