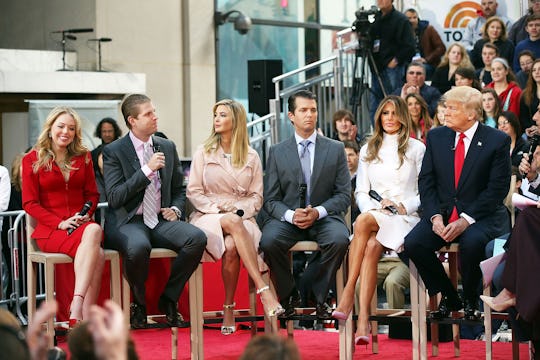 Spencer Platt/Getty Images News/Getty Images
Tiffany Trump's Instagram, While Extravagant, Is Relatively Normal
Tiffany Trump, the youngest daughter and only child of Donald Trump and Marla Maples, is scheduled to deliver a speech at the Republican National Convention on Tuesday (on behalf of her father, and the party's presumptive presidential nominee). However, little is known about the 22-year-old aside from the fact that she graduated from the University of Pennsylvania with a dual major just two months ago. The good news is that Tiffany Trump's Instagram seems to reveal quite a bit about her. I mean, for one, we now know her middle name: Ariana.
(Cool, right?)
OK, OK, finding out her middle name may not seem that groundbreaking, but the truth is that — in this day and age — Tiffany's Instagram really is revealing because, on Instagram, Tiffany Trump is well-known: she has 160,000 followers, and counting. Sure, that is far less than her father (who has a cool 2 million), but, according to Forbes, that sort of following means she is a "mid-to-top level influencer," and that means her pics and statuses have weight, reach, and that they matter.
People are looking to the academic and socialite, and they are following her young and fabulous life.
In fact, a New York Times article recently named Tiffany Trump a member of the "Snap Pack," a group of social media savvy debutantes that includes Kyra Kennedy, Robert F. Kennedy, Jr.'s daughter; Stephanie Seymour's son Peter Brant Jr.; and Gaia Matisse, the great-great granddaughter of painter Henri Matisse. But what sort of images is Tiffany sharing? Well, aside from a few extraordinary scenes, an appearance on The Today Show, and pics of her alongside her famous parents, Tiffany's Instagram looks strikingly similar to many other 22-year-olds I know. (See sunsets, selfies, mirror selfies, and vacation fun.)
Make no mistake: Tiffany has her fair share of professional images and "modeling shots" on her feed. Images like this:
Or this:
And even like this:
However, it doesn't appear that Tiffany is cashing in on her Instagram fame — i.e. I couldn't locate any pics with branded content and/or product placements. And in my opinion, the lack of said placements means one thing: Tiffany is just like many other young women on Instagram: while she may be rich and famous. she is just trying to find her voice and her place in this social media society rather than build a brand for herself. To each her own.