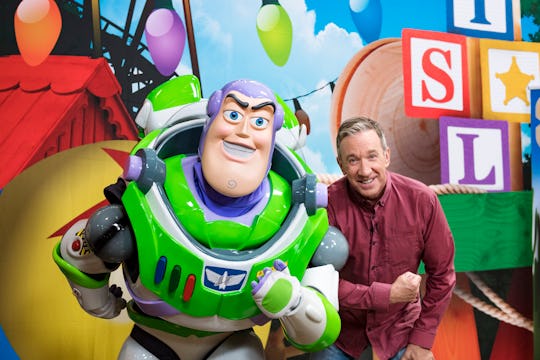 Handout/Getty Images Entertainment/Getty Images
Stock Up On Tissues, Because Tim Allen Said 'Toy Story 4' Is Going To Be "So Emotional"
If the news has been making you feel a bit down lately, maybe it's time for a little Toy Story in your life. Then again, maybe not... unless you're ready to get real emotional in the movie theater. This week, Tim Allen dished about Toy Story 4 and it sounds like it's going to have everyone reaching for the tissues.
Allen spoke about the upcoming Pixar film on The Talk on Wednesday, as People reported, comparing it to… Avengers: Infinity War? When host Sara Gilbert asked about his role as the beloved character Buzz Lightyear, Allen replied, "Yes, I got to resist getting emotional because I don't want to give it away, but this is an incredibly great story…"
He continued, "It is so emotional. It's so funny. It's so big the idea that they've come up with that I'm startled. [Toy Story] 3 I thought was amazing. This, I couldn't even get through the last scene."
The actor also went into a bit of detail about how the movies are alike. "If you're at all a superhero fan, Infinity War — I'm a big superhero fan — that didn't seem like it was going to work and it was a lot of vignettes that all made sense," he said during the same appearance.
Pixar had previously announced that Toy Story 4 would focus on a love story between Woody and Bo Peep, according to Collider.
You may recall that Bo Peep was missing from Toy Story 3, and John Lasseter, one of the franchise's creators explained to Collider: "As we were looking around we came up with this idea because Bo Peep was not in Toy Story 3, and it actually worked beautifully into this… so Woody and Buzz Lightyear go out to find Bo Peep and bring her back, and it's a very special and emotional love story."
So, will audiences respond to a love story between animated toys? The rest of the series has set a high bar, with the first three films grossing more than $1.3 billion worldwide, according to the Los Angeles Times. But Toy Story was Pixar's first baby and the studio is unlikely to do anything with the characters that would lead to a less-than-favorable response. And that may be one reason why this film has taken so long to make.
Pixar originally announced Toy Story 4 in 2014 and set it for what Vanity Fair called an ambitious release date in the summer of 2017. In 2015, the studio announced it was pushing it back to 2018, then in 2016 it was rearranged again to June 21, 2019, according to Variety. That move was a swap that allowed The Incredibles 2 to be released in summer 2018, as Variety reported.
But with Allen's words it's clear that the movie is well under way and fans can probably mark their calendars for next summer. He did decline to give anything else away about his upcoming role, telling the hosts of The Talk:
I'd love to be a Washington leaker, I just can't do it. I can't give any more away. They've got great characters, but a couple of the scenes toward the end were really hard to get through.
So yes, still emotional, but in all the right Pixar ways.