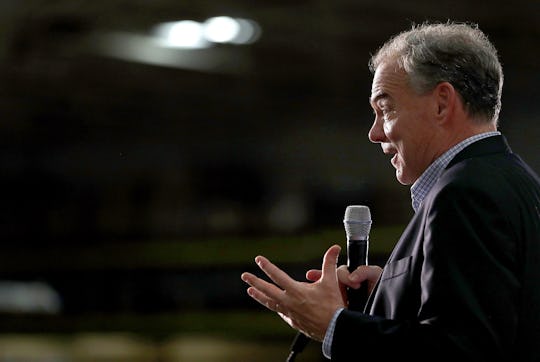 Justin Sullivan/Getty Images News/Getty Images
Tim Kaine Memes From The Vice Presidential Debate Show He's America's New Fave Uncle
During the showdown between the candidates for vice president, Hillary Clinton's running mate seemed to make quite the impression on viewers. While many were pleased by his performance during the night, it was the new slew of Tim Kaine memes from the vice presidential debate that are really making the rounds on the Internet. And, like Vice President Joe Biden before him, it seems Kaine is primed to be America's new "favorite uncle."
Nearly as soon as Clinton announced Kaine as her running mate, people began drawing parallels between Kaine and current Vice President Biden. As David S. Bernstein wrote for Politico Magazine before Kaine's public debut at the Democratic National Convention: "It was a foregone conclusion that Biden wouldn't be back. But in choosing Virginia Senator Tim Kaine as her running mate, Hillary Clinton has come much closer than most people appreciate to offering America a third Joe Biden term."
Beyond their similarly humble personalities, Kaine and Biden also both happen to be lifelong Catholics who've served in the United States Senate and are proven to be capable of reaching across the aisle. Those were traits that both President Obama and presidential hopeful Clinton zeroed in on when making their running mate selections.
But, in the eyes of many watching the one and only debate between the vice presidential candidates, what really mattered was how Kaine presented himself. And it doesn't seem many were disappointed — at least when it comes to his meme-potential as the possible vice president.
That doesn't mean Kaine was universally adored, especially as he frequently interrupted Pence and didn't seem nearly as calm as his opponent.
That only drew into focus the differences between Pence and Kaine — and, for better or worse, Kaine didn't come off quite as well.
It's unfortunate not just for the Clinton campaign but also because Kaine has so far in the campaign come across as positive and controlled. Take, for example, his hobby of playing the harmonica. As Andy Garrigue wrote in a Time article about how that musical talent makes Kaine a better leader, "His everyman persona—'just a harmonica player'—belies a sense of fitting in with the music community. And his boyish enthusiasm, low-key modesty, respect for his fellow musicians and clear love for live music all serve to unite people with him." All of which certainly speaks to Kaine's affable personality.
That is just the kind of tidbit that seemed to endear Kaine to the American electorate. And if his performance during the vice presidential debate wasn't perfect, he did make a number of important points — on the implicit bias against African Americans in law enforcement, on women's reproductive rights, and several other issues.
So just like that one uncle, Kaine may occasionally hit an off note, but is lovable nonetheless.