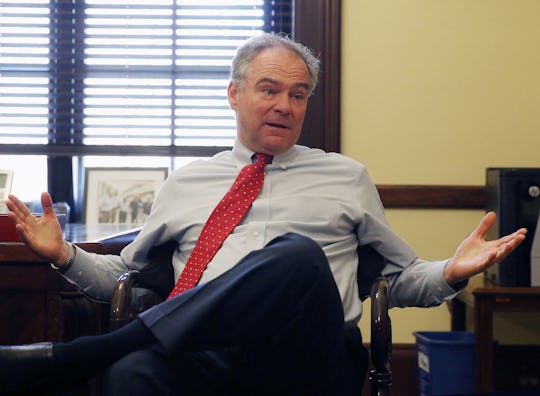 Mark Wilson/Getty Images News/Getty Images
Tim Kaine Memes Show That Twitter Isn't Ready To Be Serious After The RNC
Presumptive Democratic nominee and former Secretary of State Hillary Clinton announced Virginia Sen. Tim Kaine as her vice president and running mate for the 2016 election on Friday night, in a text message to her supporters. Since the announcement, reactions on Twitter have been mixed, with some calling Kaine a boring pick who won't be strong enough to help her beat the loud and divisive Donald Trump. Others are saying that Kaine is a pick that will help unite the Clinton campaign and sway Independent and more centrist Republican voters who feel alienated by the Republican Party. And, others, still, are reacting on Twitter with humor, because how else do you deal with the dismal state of the Republican Party? Tim Kaine memes show that people still need comic relief after the RNC.
By any and all measurements, Kaine is a really nice guy. He's a Catholic, he did missionary work in Honduras when he was younger, and he has a great track record when it comes to helping kids access education and pre-school in Virginia. Though he's religious, Kaine is pro-choice because he believes that — shocker! — his religious beliefs shouldn't dictate the healthcare decisions that women can make for themselves. And so the memes that Twitter shared about him weren't meant to be mean-spirited. It's clear that people just weren't ready to be serious about the election after the sh*t show that was the Republican National Convention.
Twitter really didn't have too many harsh words for Kaine, but it wasn't about to give up on the Jerry Gergich comparisons (because they're actually so accurate!).